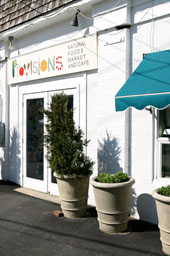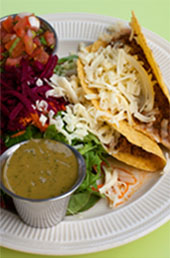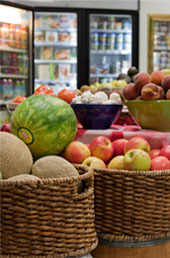 Monday's Specials
Breakfast Specials
Avocado Toast
sliced avocado, miso-tahini spread, red onion, olive oil and black sesame seeds on whole grain toast. 8.25
Breakfast Wrap
spinach and goat cheese 13.95
Huevos Rancheros
corn tortillas with two eggs, ranchero sauce, monterey jack, pureed beans, avocado and cilantro. 9.75
Omelette #1
asparagus and fine herbs 11.95
Omelette #2
mushroom and jack 13.95
Soup Specials
Carrot and Ginger
small $7.25 medium $8.25 large $13.25
Chicken and Rice
small $7.25 medium $8.25 large $13.25
Lunch Specials
Broccoli and Feta Quesadilla
broccoli, feta, chili flakes in a spinach tortilla. 13.95
Hawaiian Flatbread
chicken with bbq sauce, grilled pineapple, grilled red onions, basil and cheddar on crispy lavash. 12.95
Red Lentil and Coconut Daal
red lentil curried daal with coconut milk and red thai chili paste served over brown rice and steamed greens. 10.95
Southwest Chicken Wrap
seared chicken breast, brown rice, corn salsa, monterey jack, avocado and our bbq sauce in a sun-dried tomato tortilla. 14.75
Bean of the Day
Kidney Beans
Smoothie Specials
Aloha
orange juice, pineapple-coconut juice, pineapple, mango and strawberries. 8.75
Fresco
coconut water, banana, kale, pineapple and cashews. 9.50
Holy Cacao
hemp milk, blueberries, mango, banana, chocolate rice protein and cacao powder. 9.50
Mango Lassi
mango, mint, orange juice, rice milk and coconut milk yogurt. 7.95
Red Moon
kale, beet, apple, orange, ginger, cucumber $8.50 $9.75
The Hempster
vanilla hemp milk, hemp seeds, hemp protein, banana and peanut butter. 9.50
Juice Specials
Beauty and the Beet
celery, beet, apple, lemon, ginger, kale and pineapple. 10.50
Dressed in Green
spinach, celery, kale, carrot, apple and lemon. 8.50
Freshly Green
cucumber, kale, apple, lemon and ginger. small $8.75 large $9.95
Morning Sunrise
carrot, apple, beet and ginger. small 8.50 large 9.75
Wake Up Sun
carrot, apple, ginger and lemon. small 8.50 large 9.75
Community
AUGUST'S BAG CHARITY DONATION GOES TO SURFRIDER FOUNDATION
The Surfrider Foundation is dedicated to the protection and enjoyment of the world's ocean, waves and beaches through a pow ...
Provisions Community Events
Please ask to sign the contact list at the register to receive info for upcoming evening events such as workshops, seminars, ...
We're On Instagram!
Follow us on instagram via @pronaturalfoods.
August Sale
Desert Essence
Tea Tree Mouthwash
8.59 5.99
Clearly Natural
Unscented Glycerin Bar Soap
2.35 1.49
Avalon Organic
Lavender Bath & Shower Gel
11.75 8.49
Andalou Naturals
Men's Smooth Glide Shave Cream
9.99 6.99
Yumearth
Organic Fruit Snacks
5.35 3.49
Woodstock Mini Me's
Dark Chocolate RIce Bites
3.29 1.99
Vita Coco
Pressed Coconut Water
3.49 2.00