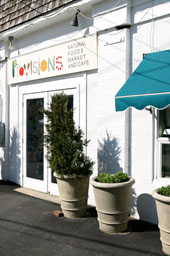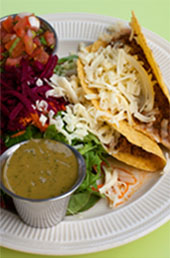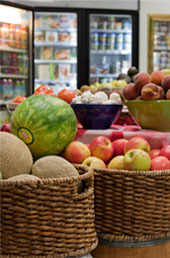 Sunday's Specials
Breakfast Specials
Avocado Toast
sliced avocado, miso-tahini spread, red onion, olive oil and black sesame seeds on whole grain toast. 7.95
Huevos Rancheros
corn tortillas with two eggs, ranchero sauce, monterey jack, pureed beans, avocado and cilantro. 9.75
Omelette #1
asparagus and fine herbs. 11.95
Omelette #2
spinach and cheddar. 13.95
Pancakes
plain $10.75 banana $12.75 pecans $12.75
Soup Specials
Chicken and Rice
small $6.95 medium $7.95 large $12.95
Roasted Tomato and Basil
small $6.75 medium $7.75 large $12.75
Lunch Specials
BBQ Chicken Quesadilla
pulled chicken, monterey jack, grilled onion, and our own barbecue sauce in a sun-dried tomato tortilla with guacamole and salsa. 14.95
Caesar Salad
romaine, gluten-free croutons, and vegan caesar dressing $9.95. with grilled chicken $13.95. with grilled tofu or tempeh $11.95.
Chicken and Arugula Wrap
seared free-range chicken, monterey jack and arugula, with green-herb dressing in a spinach wrap. 14.75
Turkey Bolognese
ground turkey slow simmered with tomatoes, cremini mushrooms, garlic, basil, oregano and parsley, served over gluten free penne pasta. 11.95
Bean of the Day
Pinto Beans
Smoothie Specials
Fresco
coconut water, banana, kale, pineapple and cashews. 9.50
Holy Cacao
hemp milk, blueberries, mango, banana, chocolate rice protein and cacao powder. 9.50
PB & J
peanut butter, strawberries, blueberries, raspberries and rice milk. 9.50
The Hempster
vanilla hemp milk, hemp seeds, hemp protein, banana and peanut butter. 9.50
Whey Cool
whey protein, strawberries, banana, mint and rice milk. 9.50
Juice Specials
Dressed in Green
spinach, celery, kale, carrot, apple and lemon. 8.50
Freshly Green
cucumber, kale, apple, lemon and ginger. small 8.50 large 9.75
Morning Sunrise
carrot, apple, beet and ginger. small 8.50 large 9.75
Wake Up Sun
carrot, apple, ginger and lemon. small 8.50 large 9.75
Community
JUNE'S BAG CHARITY DONATION GOES TO i-TRI
Based on the East End of Long Island, i-tri is an inclusive, community-based program that fosters self-respect, personal empow ...
Provisions Community Events
Please ask to sign the contact list at the register to receive info for upcoming evening events such as workshops, seminars, ...
We're On Instagram!
Follow us on instagram via @pronaturalfoods.
June Sale
Nutiva
Organic Hemp Protein Powder
17.79 11.99
Natren
Dairy Free Healthy Trinity
69.98 49.99
Tom's of Maine
Natural Powder Deodorant
9.09 5.99
Tiger Balm
Pain Relieving Patch
7.49 4.99
Every Man Jack
Sandalwood Body Wash
9.19 6.49
Bee & Flower
Sandalwood Bar Soap
1.49 0.99
Babo Botanicals
30 SPF Sunscreen
19.99 14.99