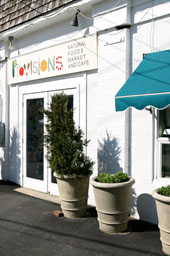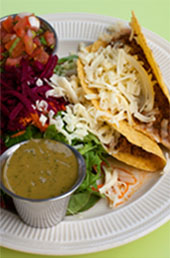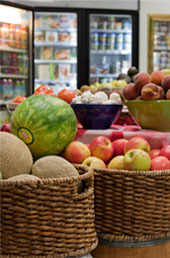 Wednesday's Specials
Breakfast Specials
Avocado Toast
sliced avocado, miso-tahini spread, red onion, olive oil and black sesame seeds on whole grain toast. 8.25
Breakfast Wrap
spinach and jack cheese. 13.95
Huevos Rancheros
corn tortillas with two eggs, ranchero sauce, monterey jack, pureed beans, avocado and cilantro. 9.75
Omelette #1
zucchini and scallions. 11.95
Omelette #2
mushroom and cheddar. 13.95
Soup Specials
Chicken and Rice
small $7.25 medium $8.25 large $13.25
Green Split Pea
small $7.25 medium $8.25 large $13.25
Lunch Specials
BBQ Chicken Quesadilla
pulled chicken, monterey jack, grilled onion, and barbecue sauce in a sun-dried tomato tortilla with guacamole and salsa. 14.95
Caesar Salad
romaine, gluten-free croutons, and vegan caesar dressing $9.95. with grilled tofu $11.95. with grilled chicken $13.95. .
Portobello Zucchini Spaghetti
roasted portobello, zucchini spaghetti, basil pesto, pumpkin seeds, shaved carrots and tomatoes over red quinoa. 13.95
Veggie Wrap
tofu, brown rice, carrots, beets, spinach, and chipotle dressing, in a spinach tortilla. 12.95
Bean of the Day
Pinto Beans
Community
February's Bag Charity Donation goes to East End Special Players and South Fork Bakery
The mission of the East End Special Players is to enhance the lives of adults with varied needs and a ...
We're On Instagram!
Follow us on instagram via @pronaturalfoods.
Provisions Community Events
Please ask to sign the contact list at the front of the store or email susan@provisionsnaturalfoods.com to receive info f ...
February Sale
Crofter's
Organic Superfruit Spread
5.79 4.29
Rapunzel
Organic Cocoa Powder
11.29 7.99
Mount Hagen
Organic Instant Coffee
12.59 8.99
Late July Snacks
Organic Popcorn
4.79 2.50
Shikai Products
Borage Hand Cream
10.59 5.49
Olba's
Oil for Children
16.99 12.99
Nature's Way
Sambucus Gummies
21.49 15.49