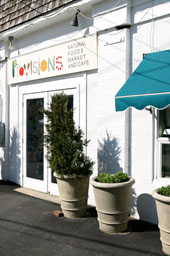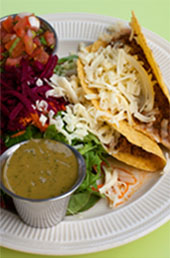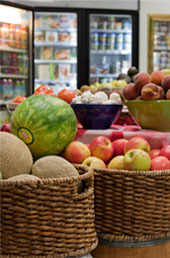 Sunday's Specials
Breakfast Specials
Avocado Toast
sliced avocado, miso-tahini spread, red onion, olive oil and black sesame seeds on whole grain toast. 8.25
Huevos Rancheros
corn tortillas with two eggs, ranchero sauce, monterey jack, pureed beans, avocado and cilantro. 9.75
Omelette #1
zucchini and roasted tomatoes 11.95
Omelette #2
mushroom and cheddar 13.95
Pancakes
plain $10.75 banana $12.75 pecans $12.75
Soup Specials
Chicken and Rice
small $7.25 medium $8.25 large $13.25
White Bean and Kale
small $7.25 medium $8.25 large $13.25
Lunch Specials
BBQ Chicken Quesadilla
pulled chicken, monterey jack, grilled onion, and our own barbecue sauce in a sun-dried tomato tortilla with guacamole and salsa. 14.95
Broccoli & Feta Flat Bread
crispy lavash, chopped broccoli, feta, roasted garlic, crushed red pepper and pesto drizzle. 11.95
Chicken and Arugula Wrap
seared free-range chicken, monterey jack and arugula, with green-herb dressing in a spinach wrap. 14.75
Chickpea, Tomato & Garlic Stir Fry
chickpeas, tomatoes and garlic sauteed in olive oil, with basil and greens on a bed of brown rice. 13.25
Bean of the Day
Pinto Beans
Smoothie Specials
Aloha
orange juice, pineapple-coconut juice, pineapple, mango and strawberries. 8.75
Fresco
coconut water, banana, kale, pineapple and cashews. 9.50
Holy Cacao
hemp milk, blueberries, mango, banana, chocolate rice protein and cacao powder. 9.50
Red Moon
kale, beet, apple, orange, ginger, cucumber $8.50 $9.75
The Hempster
vanilla hemp milk, hemp seeds, hemp protein, banana and peanut butter. 9.50
Juice Specials
Beauty and the Beet
celery, beet, apple, lemon, ginger, kale and pineapple. 10.50
Dressed in Green
spinach, celery, kale, carrot, apple and lemon. 8.50
Freshly Green
cucumber, kale, apple, lemon and ginger. small $8.75 large $9.95
Morning Sunrise
carrot, apple, beet and ginger. small 8.50 large 9.75
Wake Up Sun
carrot, apple, ginger and lemon. small 8.50 large 9.75
Community
September's Bag Charity Donation goes to CMEE and HERE@HOME
The Children's Museum of the East End started with a conversation around a kitchen table in ...
Provisions Community Events
Please ask to sign the contact list at the register to receive info for upcoming evening events such as workshops, seminars, ...
We're On Instagram!
Follow us on instagram via @pronaturalfoods.
September Sale
Wild Planet
Salmon Pouch
4.49 2.49
Skinny Dipped Almonds
Dark Chocolate Cocoa Almonds
5.79 3.99
Safe Catch
Elite Wild Tuna
4.65 2.99
Real Foods
Organic Corn Thins
3.49 1.99
Muir Glen
Organic Pasta Sauce
5.09 3.29
Mount Hagen
Organic Fairtrade Coffee
12.79 9.99
Maya Kaimal
Organic Everyday Dal
5.39 3.50