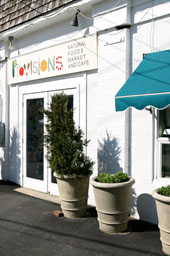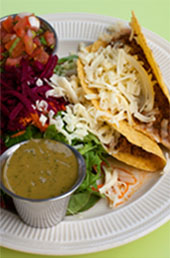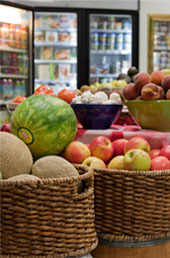 Tuesday's Specials
Breakfast Specials
Avocado Toast
sliced avocado, miso-tahini spread, red onion, olive oil and black sesame seeds on whole grain toast. 8.25
Breakfast Wrap
spinach and goat cheese 13.95
Omelette #1
mushroom and scallions. 11.95
Omelette #2
chili and cheddar. 13.95
Soup Specials
Chicken and Rice
small $7.25 medium $8.25 large $13.25
Yellow Split Pea
small $7.25 medium $8.25 large $13.25
Lunch Specials
BBQ Chicken Quesadilla
pulled chicken, monterey jack, grilled onion, and barbecue sauce in a sun-dried tomato tortilla with guacamole and salsa. 14.95
Hawaiian Flatbread
chicken with bbq sauce, grilled pineapple, grilled red onions, basil and cheddar on crispy lavash. 13.75
Sweet Potato Korma
sweet potatoes simmered with tomatoes, curry, kale, white beans and coconut milk, over brown rice. 12.95
Veggie Wrap
tofu, brown rice, carrots, beets, spinach, and chipotle dressing, in a spinach tortilla. 12.95
Bean of the Day
Pinto Beans
Smoothie Specials
Aloha
orange juice, pineapple-coconut juice, pineapple, mango and strawberries. 8.75
Fresco
coconut water, banana, kale, pineapple and cashews. 9.50
Holy Cacao
hemp milk, blueberries, mango, banana, chocolate rice protein and cacao powder. 9.50
Red Moon
kale, beet, apple, orange, ginger, cucumber $8.50 $9.75
The Hempster
vanilla hemp milk, hemp seeds, hemp protein, banana and peanut butter. 9.50
Juice Specials
Beauty and the Beet
celery, beet, apple, lemon, ginger, kale and pineapple. 10.50
Dressed in Green
spinach, celery, kale, carrot, apple and lemon. 8.50
Freshly Green
cucumber, kale, apple, lemon and ginger. small $8.75 large $9.95
Morning Sunrise
carrot, apple, beet and ginger. small 8.50 large 9.75
Wake Up Sun
carrot, apple, ginger and lemon. small 8.50 large 9.75
Community
Januaary's Bag Charity Donation goes to Sag Harbor Whaling Museum
The mission of the museum is to preserve, interpret and promote the culture of Sag Harbor through its collection of historical ...
Provisions Community Events
Please ask to sign the contact list at the front of the store or email susan@provisionsnaturalfoods.com to receive info f ...
We're On Instagram!
Follow us on instagram via @pronaturalfoods.
January Sale
Lesser Evil
Organic Popcorn
4.79 3.00
Gimme Seaweed Snacks
6 pack, Sea Salt Seaweed Snacks
7.19 3.99
Celestial Seasonings
Sleepytime Herbal Tea
4.59 2.50
Little Northern Bakehouse
Millet & Chia Bread
7.89 4.79
Hyland's Homeopathic
Cough Syrup for Kids
11.19 7.99
Biokleen
Bac-Out Spray
11.29 7.49
Beanitos
Black Bean Chips
4.39 2.79