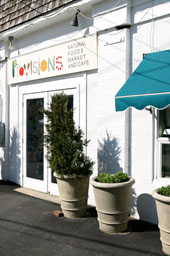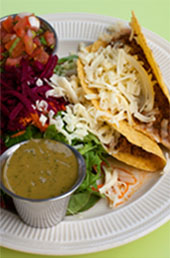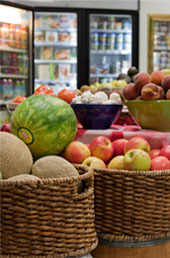 Takeout Menu
Cafe Hours
8:30AM-3:30 DAILY CLOSED SUNDAYS
Breakfast (served all day)
Breakfast Burrito
3 scrambled eggs, tomato salsa & monterey jack in a whole wheat tortilla. 12.25
Egg Sandwich
two eggs scrambled on organic brioche w/ arugula, & sun-dried tomato pesto. 8.25
Eggs Jambalaya
3 scrambled eggs, cajun spiced rice w/ tomato sauce & veggie sausage in a whole wheat tortilla. 10.5
Omelette
choice of two: spinach, tomato, mushroom, red onion or scallion $12.95 jack or goat cheese add $2.00
Scrambled Eggs
3 scrambled eggs w/ multigrain toast 8.75
Scrambled Tofu Wrap
seasoned tofu, carrots & scallions in a whole wheat tortilla. 9.25
Soups
Chicken & Rice
8.50
White Bean, Tomato & Basil
8.50
Bean of the Day
Chickpea
Today's Specials
Chicken Arugula Wrap
seared free-range chicken, monterey jack and arugula, with green-herb dressing in a spinach wrap. 14.95
Hawaiian Flatbread
chicken with bbq sauce, grilled pineapple, grilled red onions, basil and cheddar on crispy lavash. 13.95
Portobello Quesadilla
roasted portobello mushrooms, monterey jack, bean puree and spinach in a whole wheat tortilla served with guacamole and salsa. 13.95
Turkey Meatloaf
turkey meatloaf served with mashed sweet potatoes, steamed greens and mushroom gravy 14.95
Edibles
Asian Tofu Salad
greens, tofu, carrots, cucumber, scallions, tomato & sprouts w/ sesame-tamari dressing 14.25
Avocado Cheddar Melt
avocado, cheddar & carrots on grilled multigrain bread. w/ salad. 13.50
Avocado Goat Cheese Wrap
avocado, chevre, mixed greens, red onion & green herb dressing in a spinach tortilla. 13.50
Avocado Toast
sliced avocado, miso-tahini spread, red onion, olive oil and black sesame seeds on whole grain toast. 8.50
Baby Buddha
brown rice, beans, steamed vegetables and sea vegetables with a choice of tahini or green herb dressing. 14.75
Black Bean Burrito
black bean chili, brown rice & monterey jack or soy cheese in a whole wheat tortilla. w/ guacamole, tomato salsa & sour cream or tofu sour cream. 13.50
Caesar Salad
romaine, gluten-free croutons, and vegan caesar dressing $9.25. with grilled tofu $12.75. with grilled chicken $15.25.
Chicken Burrito
marinated chicken breast, black bean chili & monterey jack or soy cheese in a whole wheat tortilla. w/ guacamole, tomato salsa, & sour cream or tofu sour cream. 16.25
Chicken Wrap
marinated chicken breast, mixed greens, tomato & green herb dressing in a whole wheat tortilla. 15.25
House Salad
mixed greens, beets, carrots & sprouts w/ green herb dressing. $9.95 w/ grilled tofu $13.50 w/ grilled chicken $15.95.
Quesadilla
whole wheat tortilla filled w/ monterey jack & corn salsa. w/ guacamole & tomato salsa. 13.50 w/chicken 16.25
Red Lentil and Coconut Dal
curried dal with coconut milk and red chili paste served over brown rice and steamed greens. 12.95
Roasted Chicken Sandwich
roasted chicken, avocado, arugula, and sun-dried tomato pesto on grilled whole grain bread, served with a side salad. 15.50
Tempeh Reuben
marinated tempeh, monterey jack or soy cheese, sauerkraut, carrots & non-dairy russian dressing on grilled multigrain bread. w/ salad. 13.50
Thai Wrap
tofu or chicken w/ thai cabbage slaw & spicy peanut sauce in a spinach tortilla. with tofu 12.95 w/chicken 15.50.
Tuna Melt
tuna, red onion, celery, vegenaise & cheddar on grilled multigrain bread. w/ salad. 13.75
Tuna Wrap
tuna, red onion, celery, vegenaise & mixed greens in a sun-dried tomato tortilla. 13.50
Turkey Taco Salad
chili spiced turkey, shredded romaine lettuce, corn salsa, avocado, tomato, & crispy tortilla strips, w/ cilantro-lime dressing. 16.25
Turkey Tacos
chili spiced turkey & monterey jack in crispy taco shells w/ tomato salsa & salad. 12.50
Vegetable Stir-fry
seasonal veggies, sesame oil, tamari, garlic & ginger over brown rice. $13.75 w/ tofu or tempeh $15.25 w/ chicken $17.25
Children's Menu
Grilled Cheese Sandwich
7.25
Kid's Quesadilla
8.50
Kidney Beans
PB&J
6.25
Smoothies
Aloha
orange juice, pineapple-coconut juice, pineapple, mango and strawberries. 9.95
Berry Blast
strawberries, raspberries, blueberries & apple juice. 9.95
Green Vibrance
apple juice, rice milk, banana, green vibrance & vanilla rice protein. 9.95
Strawberry Monkey
strawberries, banana, & orange juice. 8.25
The Hempster
vanilla hemp milk, hemp seeds, chocolate hemp protein, banana and peanut butter. 9.95
Whey Nuts!
coconut water, banana, raw cashews, cacao nibs, peanut butter and whey protein. 10.95
Juice
Carrot Juice
6.75
Celery Juice
8.25
Dressed in Green
celery, kale, carrot, apple and lemon. 9.95
Freshly Green
cucumber, kale, apple, lemon and ginger. 9.95
Green Juice
celery, cucumber, parsley, kale & chard. 8.95
Morning Sunrise
carrot, apple, beet and ginger. 9.95
Important Notices
CAFE OPEN
8:30am-3:30pm
CAFE CLOSED SUNDAYS
IN STORE SHOPPING
8am-6pm
Community
PROVISIONS HOURS
MARKET HOURS:8:00-6:00PM CAFE HOURS: 8:30 AM-3:30PM CAFE CLOSED ...
Provisions Community Events
Please ask to sign the contact list at the front of the store or email susan@provisionsnaturalfoods.com to receive info f ...
Follow us on Twitter!
We're now on Twitter. Follow us @pronaturalfoods for updates on stocked items, promotions, and overall vibe.
October Sale
Kashi
Organic Whole Wheat Biscuits Cereal
5.29 3.79
Bare Fruit
Organic Apple Chips
6.38 5.00
R.W. Knudsen
Organic Apple Juice
5.50 3.00
Food For Life
Organic Ezekiel 4:9 English Muffins
8.55 6.09
Kite Hill
Almond Milk Yogurt
6.50 4.99
Vive Organic
Organic Immunity Boost Shot
4.29 3.00
Honey Mama's
Cocoa Laender Rose Truffle Bar
6.98 4.50