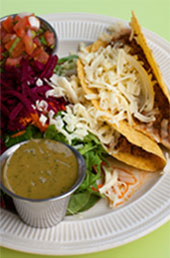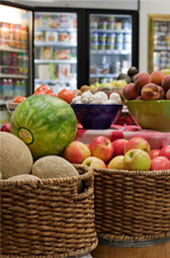 Thursday's Specials
Breakfast Specials
Avocado Toast
avocado, miso-tahini, red onions and black sesame seeds on whole grain toast $7.95
Breakfast Wrap
spinach and portobello $13.95
Huevos Rancheros
2 egg omelette, deep-flavored simmered salsa, monterey jack, pureed beans, corn tortillas, avocado and cilantro $9.75
Omelette #1
sauteed onions and peppers $11.95
Omelette #2
chili and cheddar $13.95
Provisions' Egg Sandwich
two eggs on an organic english muffin, with arugula, and sun-dried tomato pesto $6.95
Soup Specials
Chicken and Rice
small $6.75 medium $7.75 large $12.75
Moroccan Red Lentil
small $6.75 medium $7.75 large $12.75
Lunch Specials
Chicken and Arugula Wrap
seared free-range chicken, monterey jack, and arugula with green-herb dressing in a sundried tomato wrap $14.75
Mediterranean Flatbread
feta, kalamata olives, cherry tomatoes, spinach on crispy lavash served with side salad $12.95
Roasted Chicken Sandwich
roasted chicken, tomato and arugula, on whole grain toast with cilantro pesto and a side salad. $14.75
Roasted Vegetable Quesadilla
roasted portobello, roasted zucchini, roasted peppers, sauteed onions, jack cheese in a tomato tortilla $13.75
Bean of the Day
White Beans
Smoothie & Juice Specials
Aloha
organic orange juice, a splash of pineapple-coconut juice, pineapple, mango and strawberrie $8.75
Dressed in Green
spinach, celery, kale, carrot, green apple, lemon $8.50
Flu Fighter!
An anti-oxidant packed juice designed with your immune system in mind--a blend of fresh orange, grapefruit, lime, ginger, pear and apple. $10.95
Fresco
coconut water, banana, kale, pineapple & cashews $9.50
Freshly Green
cucumber, kale, apple, lemon & ginger sm. $8.50 lg. $9.75
Holy Cacao
hemp milk, blueberry, chocolate spirutein, and cacao powder $9.50
Morning Sunrise
carrot, apple, beet & ginger sm. $8.50 lg. $9.75
Pineapple Delight
pineapple, banana, mint, orange juice and coconut water $9.50
Red Moon
kale, beet, apple, orange, ginger, cucumber $8.50 $9.75
Strawberry Banana
Organic strawberries, organic bananas, freshly squeezed orange juice and Rice Dream. $8.75
The Hempster
vanilla hemp milk, hemp seeds, hemp protein, banana and peanut butter. $9.50
Wake Up Sun
carrot, apple, ginger and lemon small $8.50 large $9.75
Whey Nuts!
coconut water, banana, raw cashews, cacao nibs, peanut butter and whey protein. $9.50
Bulletin Board
Provisions Community Events
Please ask to sign the contact list at the register to receive info for upcoming evening events such as workshops, seminars, ...
March 20, 2018. 6:00-7:30pm: Caring About Your Skin
Linda Stasiak will speak on the benefits of using organic skincare, sun care and make up. Lavish goody bags and hors d'o ...
March 28, 2018 6:30-8:00pm: Sauerkraut Workshop
Join Nadia Ernestus from Hampton's Brine for a sauerkraut making demonstration and talk about the health beneifts of pro ...
March Sale
Harmless Harvest
Coconut Water
$6.89 $3.99
Cascadian Farm
Frozen Sweet Peas
$3.69 $2.50
South of France
Lavender Fields Soap
$4.99 $3.49
Wholesome Sweeteners
Cane Sugar
$7.59 $4.49
Bach
Rescue Remedy
$24.29 $15.99
Amy's
Cheese Enchilada Meal
$7.09 $4.99
American Flatbread
Vegan Harvest Pizza
$10.59 $5.99