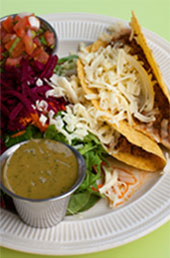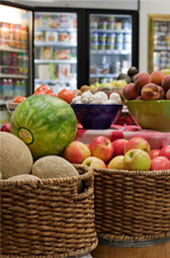 Corner of Bay &
Division Streets
Sag Harbor, New York
631-725-3636

FOLLOW US
Sag Harbor
Weather Report
Sun, May 29, 2016
Water Temp:
loading...
Air Temp:
loading...
Wind:
loading...
Sunday's Specials
Breakfast Specials
Omelette #1
mushroom and mixed herb $10.50
Omelette #2
roasted tomato and basil $10.50
Pancakes
plain $9.50 banana $10.50
Soup Specials
Chicken and Rice
small $6.25 medium $7.25 large $12.25
Moroccan Chickpea
small $6.25 medium $7.25 large $12.25
Lunch Specials
Herbed Turkey Loaf
turkey meatloaf served with mashed sweet potatoes, steamed greens, and mushroom sauce $9.95
Roasted Eggplant, Tomato, & Lemon Tofu Sandwich
slow-roasted eggplant and tomato, lemon tofu, arugula and roasted garlic hummus on whole grain lavash. served with a side salad. $12.95
Southwest Chicken Wrap
seared free-range chicken breast, brown rice, corn salsa, jack cheese, avocado and our bbq sauce in sun-dried tomato wrap $13.95
Spinach & Mushroom Quesadilla
roasted mushrooms, spinach, monterey jack, and bean puree in a spinach tortilla. with a side of guacamole and tomato salsa. $13.25
Bean of the Day
Pinto Beans
Smoothie & Juice Specials
Brighten Your Date
almond milk, hemp milk, rolled oats, banana and dates $8.95
Chia in Charge
coconut milk, coconut water, blueberries, banana, chia seeds and a touch of honey $8.95
Fabulous Fennel
fennel greens, celery, cucumber, apple, and a touch of lime $6.95
Freshly Green
cucumber, kale, apple, lemon & ginger
Fruit and Nut
almond milk, orange juice, banana, raspberries & pineaple $8.95
It Ain't Easy Being Green
coconut water, pineapple-coconut juice, banana, mango & green vibrance $8.95
Mango Lassi
mango, mint, orange juice, rice milk and coconut milk yogurt. $7.95
Morning Sunrise
carrot, apple, beet & ginger
Sun Salutation
lemonade, orange juice, grapefruit juice and mint $6.95
Wake Up Sun
carrot, apple, ginger and lemon small $7.50 large $8.95
Bulletin Board
We're On Instagram!
Follow us on instagram via @pronaturalfoods.
Follow us on Twitter!
We're now on Twitter. Follow us @pronaturalfoods for updates on stocked items, promotions, and overall vibe.
May Sale
Spectrum Essentials
Organic Ground Flaxseed
$7.89 $4.99
Crofter's
Organic Berry Harvest Spread
$6.89 $4.19
Nancy's
Low Fat Cottage CHeese
$4.99 $3.29
HimalaSalt
Primordial Himalayan Sea Salt
$7.69 $4.99
Biokleen
Automatic DIsh Powder
$10.89 $7.19
Garden of Eatin'
Blue Corn Tortilla Chips
$4.29 $2.50
Lundberg Family Farms
Wild Blend Rice
$5.69 $3.50