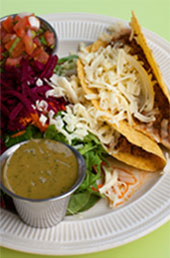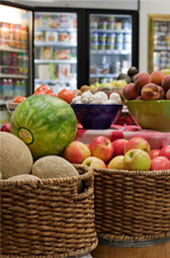 Corner of Bay &
Division Streets
Sag Harbor, New York
631-725-3636

FOLLOW US
Sag Harbor
Weather Report
Fri, Apr 29, 2016
Water Temp:
loading...
Air Temp:
loading...
Wind:
loading...
Friday's Specials
Breakfast Specials
Breakfast Wrap
three scrambled eggs with tomato and grilled onion $10.95
Omelette #1
three eggs with mushroom and parsley $10.50
Omelette #2
three eggs with tomato and grilled onion $10.50
Soup Specials
Chicken and Rice
small $6.25 medium $7.25 large $12.25
Green Split Pea
small $6.25 medium $7.25 large $12.25
Lunch Specials
Chicken Arugula Wrap
seared chicken breast, arugula, monterey jack, and green herb dressing in a spinach tortilla $13.95
Millet Cake
baked millet cake with roasted sweet potatoes, roasted shiitake and cremini mushrooms, and steamed greens in a mushroom sauce $9.95
Portobello Quesadilla
roasted portobello, monterey jack, and bean puree in a sun-dried tomato tortilla with a side of guacamole and tomato salsa. $13.25
Roasted Beet and Goat Cheese Salad
mixed greens, roasted beets, toasted walnuts, goat cheese and sprouts with a shallot-mustard dressing $11.95
Bean of the Day
Pinto Beans
Smoothie & Juice Specials
Brighten Your Date
almond milk, hemp milk, rolled oats, banana and dates $8.95
Chia in Charge
coconut milk, coconut water, blueberries, banana, chia seeds and a touch of honey $8.95
Fabulous Fennel
fennel greens, celery, cucumber, apple, and a touch of lime $6.95
Freshly Green
cucumber, kale, apple, lemon & ginger
Fruit and Nut
almond milk, orange juice, banana, raspberries & pineaple $8.95
It Ain't Easy Being Green
coconut water, pineapple-coconut juice, banana, mango & green vibrance $8.95
Mango Lassi
mango, mint, orange juice, rice milk and coconut milk yogurt. $7.95
Morning Sunrise
carrot, apple, beet & ginger
Sun Salutation
lemonade, orange juice, grapefruit juice and mint $6.95
Wake Up Sun
carrot, apple, ginger and lemon small $7.50 large $8.95
Bulletin Board
We're On Instagram!
Follow us on instagram via @pronaturalfoods.
Follow us on Twitter!
We're now on Twitter. Follow us @pronaturalfoods for updates on stocked items, promotions, and overall vibe.
APRIL BAG CHARITY
We want you to remember to bring your bag when you shop. To help remind you, we charge you twenty cents when you forget. How ...
April Sale
Wellness Pet Products
Core Grain Free Dog Formula
$20.69 $15.99
Similasan
Eye Drops
$13.99 $8.99
Jason Natural Products
Fluoride-Free Toohpaste
$6.99 $4.99
Giovanni Hair Care Products
Smooth as Silk Shampoo
$8.95 $5.99
Avalon
Lavender Shampoo
$19.99 $13.99
Alba Botanica
45 SPF Sunscreen
$11.49 $7.99
Cascadian Farm
Organic Frozen Sweet Peas
$3.69 $2.00