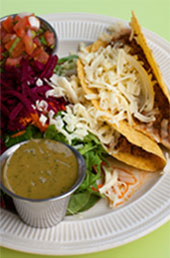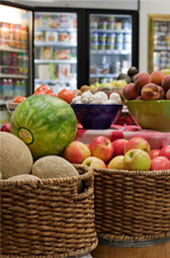 Corner of Bay &
Division Streets
Sag Harbor, New York
631-725-3636

FOLLOW US
Sag Harbor
Weather Report
Wed, Mar 12, 2014
Water Temp:
loading...
Air Temp:
loading...
Wind:
loading...
Wednesday's Specials
Breakfast Specials
Breakfast Wrap
three scrambled eggs, roasted peppers and spinach $10.25
Omelette #1
grilled onion, tomato and zucchini $10.25
Omelette #2
broccoli, scallion and cheddar $10.25
Soup Specials
Celery Root & Shiitake Mushroom Bisque
small $5.95 medium $6.95 large $11.95
White Bean Tomato Kale
small $5.95 medium $6.95 large $11.95
Lunch Specials
Chicken Taco Salad
seasoned pulled chicken, shredded romaine, corn, avocado, tomato, sunflower seeds and crispy corn tortilla strips with cilantro lime dressing $13.95
Herbed Turkey Loaf
turkey meatloaf, mashed sweet potatoes, steamed spinach, and mushroom sauce. $9.95
Portobello Quesadilla
roasted portobello, monterey jack and bean puree in a sun-dried tomato tortilla with a side of guacamole and tomato salsa. $13.25
Vegetable Wrap
brown rice, carrots, beets, cucumber, avocado, daikon and spinach in a spinach tortilla. served with roasted tomato dressing. $10.95
Bean of the Day
Black Beans
Smoothie & Juice Specials
Blueberry Banana
blueberries, banana, rice milk, coconut water, and vanilla whey protein. $8.95
Mango Pineapple
Organic mangos, organic pineapple, plain yogurt and pineapple coconut juice. $8.95
Peanut Butter Twist
hemp milk, banana, peanut butter and ultimate meal. $8.95
Super Smoothie
mixed berries, spirutein, rice milk, and pomegranate acai goat kefir. $8.95
Bulletin Board
Services for Debbie
With sadness, we report the passing of Debra Marino on Monday March 10th after a two-year struggle with lung cancer. The wif ...
March Bag Donations
For March, our donations will go to Katy's Courage. The organization is dedicated to education and support for families ...
Follow us on Twitter!
We're now on Twitter. Follow us @pronaturalfoods for updates on stocked items, promotions, and overall vibe.
March 2014 Sale
Hyland's Homeopathic
Leg Cramps with Quinine
$15.59 $9.99
Mary's Gone Crackers
Organic Sea Salt Sticks and Twigs
$5.19 $3.50
Bach Flower Essences
Black Currant Rescue Remedy
$8.99 $5.99
Deboles
Organic Artichoke Spaghetti
$3.69 $2.49
R.W Knudsen
Organic Just Tart Cherry Juice
$9.59 $6.99
Organic India
Organic Original Tulsi Tea
$5.99 $3.99
Garden of Eatin'
Blue Corn Tortilla Chips
$5.99 $3.79