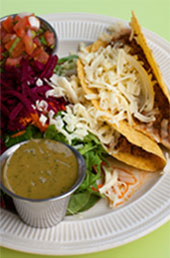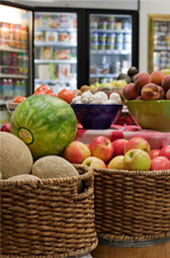 Corner of Bay &
Division Streets
Sag Harbor, New York
631-725-3636

FOLLOW US
Sag Harbor
Weather Report
Thu, Apr 27, 2017
Water Temp:
loading...
Air Temp:
loading...
Wind:
loading...
Thursday's Specials
Breakfast Specials
Avocado Toast
avocado, miso-tahini, red onions and black sesame seeds on whole grain toast $6.95
Breakfast Wrap
spinach and roasted peppers $10.95
Huevos Rancheros
2 egg omelette, deep-flavored simmered salsa, monterey jack, pureed beans, corn tortillas, avocado and cilantro $9.50
Omelette #1
mushrooms and sauteed onion $10.50
Omelette #2
tomato and pesto $10.50
Provisions' Egg Sandwich
two eggs on an organic english muffin, with arugula, and sun-dried tomato pesto $6.95
Soup Specials
Carrot Ginger
small $6.50 medium $7.50 large $12.50
Chicken and Rice
small $6.50 medium $7.50 large $12.50
Lunch Specials
Chicken and Arugula Wrap
seared free-range chicken, monterey jack, and arugula with green-herb dressing in a spinach wrap $13.95
Herbed Turkey Loaf
mashed sweet potatoes, steamed greens, and crimini mushroom sauce $9.95
Hummus Flat Bread
hummus, spinach, roasted tomato, grilled onion and black olives on crispy lavash. served with a side salad. $12.95
Spinach & Mushroom Quesadilla
sauteed onions, sauteed peppers, spinach, mushrooms, and cheddar in a whole wheat tortilla. served with salsa. $12.95
Bean of the Day
White Beans
Smoothie & Juice Specials
Aloha
organic orange juice, a splash of pineapple-coconut juice, pineapple, mango and strawberrie $8.25
Dressed in Green
spinach, celery, kale, carrot, green apple, lemon $7.50
Fresco
coconut water, banana, kale, pineapple & cashews $9.50
Freshly Green
cucumber, kale, apple, lemon & ginger sm. $7.50 lg. $8.95
Morning Sunrise
carrot, apple, beet & ginger sm. $7.50 lg. $8.95
Pineapple Delight
pineapple, banana, mint, orange juice and coconut water $7.50
Pretty in Pink
organic apple juice, strawberries, raspberries and pineapple $8.25
Red Moon
kale, beet, apple, orange, ginger, cucumber Sm. $7.50 Lg. $8.95
Wake Up Sun
carrot, apple, ginger and lemon small $7.50 large $8.95
Whey Nuts!
coconut water, banana, raw cashews, cacao nibs, peanut butter and whey protein. $9.50
Bulletin Board
This Month's Bag Donations will go to i-tri
i-tri is a non-profit empowerment program for adolescent girls on the east end. Your donation will help local girls as they ...
We're On Instagram!
Follow us on instagram via @pronaturalfoods.
Follow us on Twitter!
We're now on Twitter. Follow us @pronaturalfoods for updates on stocked items, promotions, and overall vibe.
April Sale
Montebello
Extra Virgin Olive Oil
$22.59 $11.99
Forager
Vanilla Bean Cashewgurt
$2.75 $1.50
Ancient Secrets
Nasal Cleansing Pot
$17.25 $11.79
Truroots
Lentil Blend
$6.99 $4.99
Hylands Homeopathic
Leg Cramps Relief
$15.89 $10.99
Organic Valley
Omega-3 Eggs
$8.59 $5.19
Applegate Farms
Classic Pork Sausage
$6.19 $4.29