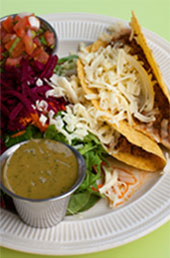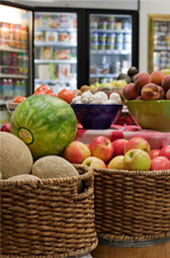 Corner of Bay &
Division Streets
Sag Harbor, New York
631-725-3636

FOLLOW US
Sag Harbor
Weather Report
Tue, May 23, 2017
Water Temp:
loading...
Air Temp:
loading...
Wind:
loading...
Tuesday's Specials
Breakfast Specials
Avocado Toast
avocado, miso-tahini, red onions and black sesame seeds on whole grain toast $6.95
Breakfast Wrap
goat cheese and avocado $10.95
Huevos Rancheros
2 egg omelette, deep-flavored simmered salsa, monterey jack, pureed beans, corn tortillas, avocado and cilantro $9.50
Omelette #1
asparagus $10.50
Omelette #2
spinach and sauteed onions $10.50
Provisions' Egg Sandwich
two eggs on an organic english muffin, with arugula, and sun-dried tomato pesto $6.95
Soup Specials
Chicken Minestrone
small $6.50 medium $7.50 large $12.50
Green Split Pea
small $6.50 medium $7.50 large $12.50
Lunch Specials
BBQ Chicken Quesadilla
pulled chicken, monterey jack, grilled onion, and our own barbecue sauce in a sun-dried tomato tortilla with guacamole and salsa $14.95
Turkey Meatloaf Wrap
herbed turkey loaf, grilled onion, beans, spinach and chipotle dressing wrapped in a sun-dried tomato tortilla. $12.95
Warm French Lentil and Beet Salad
arugula, de puy green lentils, roasted beets with goat cheese with a roasted red onion vinaigrette $10.95
Bean of the Day
Pinto Beans
Smoothie & Juice Specials
Aloha
organic orange juice, a splash of pineapple-coconut juice, pineapple, mango and strawberrie $8.25
Dressed in Green
spinach, celery, kale, carrot, green apple, lemon $7.50
Fresco
coconut water, banana, kale, pineapple & cashews $9.50
Freshly Green
cucumber, kale, apple, lemon & ginger sm. $7.50 lg. $8.95
Morning Sunrise
carrot, apple, beet & ginger sm. $7.50 lg. $8.95
Pineapple Delight
pineapple, banana, mint, orange juice and coconut water $7.50
Pretty in Pink
organic apple juice, strawberries, raspberries and pineapple $8.25
Red Moon
kale, beet, apple, orange, ginger, cucumber Sm. $7.50 Lg. $8.95
Wake Up Sun
carrot, apple, ginger and lemon small $7.50 large $8.95
Whey Nuts!
coconut water, banana, raw cashews, cacao nibs, peanut butter and whey protein. $9.50
Bulletin Board
DR. HAUSCHKA EVENT AT PROVISIONS Tuesday, May 16th, 6:30-8PM
Learn how to balance your skin with the changing o ...
This Month's Bag Donations will go to HERE@HOME
Kids and parents, concerned citizens, friends and neighbors who have banded together to make suret hat the kids in OUR villa ...
We're On Instagram!
Follow us on instagram via @pronaturalfoods.
May Sale
The Honest Company
Bug Spray
$18.29 $1299.00
Bedu
Turmeric & Honey Camel Milk Soap
$7.09 $3.99
Earthrise
Spirulina Gold Plus
$17.79 $9.49
Maranatha Natural Foods
Creamy Sea Salt Peanut Butter
$8.09 $4.79
Kiss My Face
50 SPF Sunscreen
$16.29 $9.99
Crofters
Strawberry Fruit Spread
$5.29 $3.19
Annie's Homegrown
Shells And White Cheddar
$3.19 $2.00