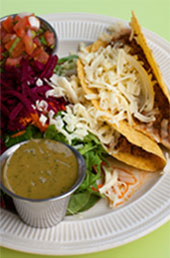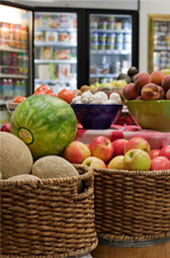 Corner of Bay &
Division Streets
Sag Harbor, New York
631-725-3636

FOLLOW US
Sag Harbor
Sailing Report
Thu, Nov 27, 2014
Water Temp:
loading...
Air Temp:
loading...
Wind:
loading...
Wednesday's Specials
Breakfast Specials
Breakfast Wrap
three scrambled eggs, roasted tomato, basil, and goat cheese $10.25
Omelette #1
shiitake and avocado $10.25
Omelette #2
broccoli and cheddar $10.25
Soup Specials
Green Split Pea
small $5.95 medium $6.95 large $11.95
Mediterranean Red Lentil
small $5.95 medium $6.95 large $11.95
Lunch Specials
Avocado & Goat Cheese Quesadilla
goat cheese, avocado, and corn salsa in a sun-dried tomato tortilla with a side of cilantro pumpkin seed pesto $12.95
Cauliflower with Cashew-Sesame Seed Sauce
cauliflower, brown rice, wilted greens and pear relish $9.95
Chicken Arugula Wrap
seared chicken breast, arugula, monterey jack and green herb dressing in a spinach tortilla. $13.95
Chickpea Stirfry
chickpeas, tomato and garlic sauteed in olive oil with basil and greens on a bed of brown rice. $11.95
Bean of the Day
Chickpeas
Smoothie & Juice Specials
Cacao Mint
cacao nibs, mint, banana, hemp milk and vanilla spirutein $8.95
Dressed in Green
spinach, celery, kale, carrot, green apple, lemon $7.50
Peanut Butter Berry
unsweetened help milk, peanut butter, mixed berries, and vanilla spirutein $8.95
Raspberry Mango
raspberries, mango, apple juice and rice milk. $7.95
Red Moon
chard, beet, apple, orange, ginger, cucumber $6.95
Bulletin Board
Turkey Donation
during the month of November you can choose to buy a paper "turkey" up at the register for $10. the money we raise ...
November Bag Donations
For November, our bag donations are going to The Sag Harbor Food Pantry. The Sag Harbor Community Food P ...
Follow us on Twitter!
We're now on Twitter. Follow us @pronaturalfoods for updates on stocked items, promotions, and overall vibe.
November 2014
Green & Blacks
85% Dark Chocolate Bar
$4.59 $2.50
Olbas
Herbal Cough Drops
$7.29 $4.49
Nasoya
Organic Extra Firm Tofu
$3.29 $1.99
Luna & Larry's
Organic Ginger Cookie Caramel Ice Cream
$7.89 $5.29
Simply Organic
Organic Crushed Red Pepper
$5.99 $3.59
Jason
Sea Fresh Strengthening Toothpaste
$6.99 $4.99
Simply Organic
Organic Vegetarian Brown Gravy
$1.85 $0.99