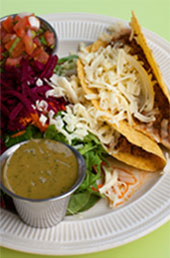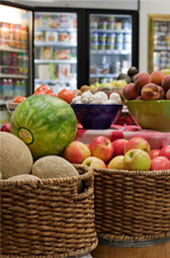 Corner of Bay &
Division Streets
Sag Harbor, New York
631-725-3636

FOLLOW US
Sag Harbor
Sailing Report
Fri, Dec 9, 2016
Water Temp:
loading...
Air Temp:
loading...
Wind:
loading...
Thursday's Specials
Breakfast Specials
Avocado Toast
avocado, hummus, red onions and black sesame seeds on whole grain toast $6.95
Breakfast Wrap
three scrambled eggs with spinach and mushrooms $10.95
Omelette #1
vegetable sausage and roasted peppers $10.50
Omelette #2
cilantro pesto and avocado $10.50
Provisions' Egg Sandwich
two eggs on an organic english muffin, with arugula, and sun-dried tomato pesto $6.95
Soup Specials
Chicken and Rice
small $6.50 medium $7.50 large $12.50
Curried Coconut Lentil
small $6.50 medium $7.50 large $12.50
Lunch Specials
Apple Walnut Salad
mixed greens, apples, goat cheese, sprouts and toasted walnuts. served with green herb dressing $12.50
Chicken Arugula Wrap
seared chicken breast, arugula, monterey jack, and green herb dressing in a spinach tortilla $13.95
Grilled Vegetable Quesadilla
spinach, mushrooms, peppers, onions, and zucchini with cheddar cheese in a sun-dried tomato tortilla. served with a side of basil pesto $12.95
Open-Faced Turkey Sandwich
open-faced turkey sandwich with mashed yukon gold potatoes and mushroom gravy $9.95
Bean of the Day
Pinto Beans
Smoothie & Juice Specials
Aloha
organic orange juice, a splash of pineapple-coconut juice, pineapple, mango and strawberrie $8.25
Fabulous Fennel
fennel greens, celery, cucumber, apple, and a touch of lime sm. $7.50 lg. $8.95
Fresco
coconut water, banana, kale, pineapple & cashews $9.50
Freshly Green
cucumber, kale, apple, lemon & ginger sm. $7.50 lg. $8.95
Morning Sunrise
carrot, apple, beet & ginger sm. $7.50 lg. $8.95
Pretty in Pink
organic apple juice, strawberries, raspberries and pineapple $8.25
Pumpkin "Spice" Up Your Life
coconut milk, hemp milk, organic rolled oats, banana, spiced pumpkin puree(cinnamon, ginger & nutmeg) & a touch of maple syrup $8.95
Red Dragon
carrot, beet, apple, pear & ginger $8.95
Wake Up Sun
carrot, apple, ginger and lemon small $7.50 large $8.95
Whey Nuts!
coconut water, banana, raw cashews, cacao nibs, peanut butter and whey protein. $9.50
Bulletin Board
We're On Instagram!
Follow us on instagram via @pronaturalfoods.
New Breakfast Special
check out our take on the egg sandwich! all organic and with greens!
Follow us on Twitter!
We're now on Twitter. Follow us @pronaturalfoods for updates on stocked items, promotions, and overall vibe.
December Sales
Java Log
Fire Logs Made with Recycled Coffee Grounds
$24.89 $17.99
Wholesome Sweeteners
Pancake Syrup
$7.59 $5.49
Immaculate Baking
Vanilla Sugar Cookie Dough
$7.09 $3.99
Miyoko's Creamery
Non Dairy Cream Cheese
$11.69 $7.49
Against The Grain Gourmet Food
Gluten Free Pesto Pizza
$13.79 $9.99
Preserve
Ultra Soft Toothbrush
$3.69 $2.49
Natrol
Melatonin
$10.79 $6.99