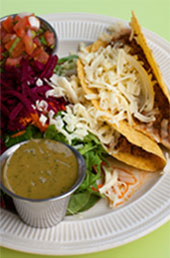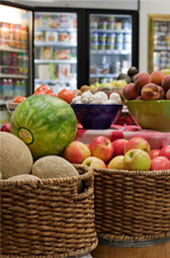 Corner of Bay &
Division Streets
Sag Harbor, New York
631-725-3636

FOLLOW US
Sag Harbor
Weather Report
Sat, Aug 19, 2017
Water Temp:
loading...
Air Temp:
loading...
Wind:
loading...
Saturday's Specials
Breakfast Specials
Avocado Toast
avocado, miso-tahini, red onions and black sesame seeds on whole grain toast $7.95
Huevos Rancheros
2 egg omelette, deep-flavored simmered salsa, monterey jack, pureed beans, corn tortillas, avocado and cilantro $9.75
Omelette #1
roast tomato and goat cheese $13.95
Omelette #2
mushroom and sauteed onion $11.95
Pancakes
plain $9.75 banana $11.95
Provisions' Egg Sandwich
two eggs on an organic english muffin, with arugula, and sun-dried tomato pesto $6.95
Soup Specials
Chicken and Rice
small $6.75 medium $7.75 large $12.75
Roasted Tomato and Fennel
small $6.75 medium $7.75 large $12.75
Lunch Specials
BBQ Chicken Quesadilla
pulled chicken, monterey jack, grilled onion, and our own barbecue sauce in a sun-dried tomato tortilla with guacamole and salsa $14.95
Chicken Tostadas
sprouted corn tortillas filled with black bean chili, seasoned pulled chicken, monterey jack, arugula, cilantro and chiplotle dressing $14.95
Portobello Wrap
roasted portobello mushrooms, grilled onion, brown rice and corn salsa, with chipotle dressing in a spinach tortilla. $11.95
Roasted Cauliflower Bowl
roasted cauliflower, roasted carrots, green peas, turmeric, ginger, chili flakes, sauteed scallions and garlic, toasted pumpkin seeds served over brown rice (with chicken add $6.95) $11.95
Bean of the Day
White Beans
Smoothie & Juice Specials
Aloha
organic orange juice, a splash of pineapple-coconut juice, pineapple, mango and strawberrie $8.25
Dressed in Green
spinach, celery, kale, carrot, green apple, lemon $7.50
Fresco
coconut water, banana, kale, pineapple & cashews $9.50
Freshly Green
cucumber, kale, apple, lemon & ginger sm. $7.50 lg. $8.95
Morning Sunrise
carrot, apple, beet & ginger sm. $7.50 lg. $8.95
Pineapple Delight
pineapple, banana, mint, orange juice and coconut water $7.50
Pretty in Pink
organic apple juice, strawberries, raspberries and pineapple $8.25
Red Moon
kale, beet, apple, orange, ginger, cucumber Sm. $7.50 Lg. $8.95
Wake Up Sun
carrot, apple, ginger and lemon small $7.50 large $8.95
Whey Nuts!
coconut water, banana, raw cashews, cacao nibs, peanut butter and whey protein. $9.50
Bulletin Board
This Month's Bag Donations will go to Project Most
Project Most's mission is to inspire every young person to make the MOST of their lives, creating lasting change for our ...
We're On Instagram!
Follow us on instagram via @pronaturalfoods.
Follow us on Twitter!
We're now on Twitter. Follow us @pronaturalfoods for updates on stocked items, promotions, and overall vibe.
August Sale
Desert Essence
Tea Tree Oil Toothpaste
$7.29 $4.99
Alba Botanica
Deep Pore AcneDote Wash
$10.79 $6.99
Yummi Bears Organics
Children Multi-Vitamins
$26.99 $18.99
Yumearth Organics
Organic Fruit Snacks
$5.09 $2.99
Woodstock
Paleo Go Snack Mix
$9.29 $6.49
Twist
Scrub Sponge
$4.29 $2.79
Santa Crus Organics
Strawberry Fruit Spread
$4.89 $2.99