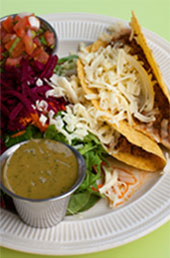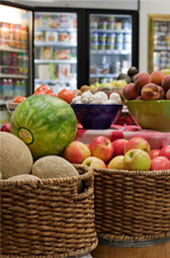 Corner of Bay &
Division Streets
Sag Harbor, New York
631-725-3636

FOLLOW US
Sag Harbor
Weather Report
Tue, Dec 10, 2013
Water Temp:
loading...
Air Temp:
loading...
Wind:
loading...
Monday's Specials
Breakfast Specials
Breakfast Wrap
3 scrambled eggs, mushrooms, and goat cheese $10.25
Omelette #1
zucchini, roasted tomato and basil $10.25
Omelette #2
veggie sausage, spinach, and feta $10.25
Soup Specials
Chicken and Rice
small $5.95 medium $6.95 large $11.95
Curried Green Lentil and Potato
small $5.95 medium $6.95 large $11.95
Lunch Specials
Avocado & Goat Cheese Quesadilla
avocado, goat cheese and corn salsa in a sun-dried tomato tortilla with a side of cilantro pumpkin seed pesto. $12.95
Herbed Turkey Loaf
turkey meatloaf, mashed potatoes, steamed greens, and mushroom sauce. $9.95
Roasted Beet and Goat Cheese Salad
mixed greens, roasted beets, toasted walnuts, goat cheese and crunchy sprouts with a shallot-mustard vinaigrette. $11.95
Southwest Chicken Wrap
pan-seared chicken, corn salsa, monterey jack, brown rice, avocado and local barbeque sauce in a whole-wheat tortilla. $13.75
Bean of the Day
Chickpeas
Smoothie & Juice Specials
Peanut Butter Twist
Hemp milk, banana, peanut butter and ultimate meal. $8.95
Raspberry Mango
raspberries, mango, apple juice and rice dream. $7.50
Strawberry Mango
strawberries, mango, yogurt, mint, pineapple coconut juice $7.50
Super Smoothie
Mixed berries, Spirutein, rice milk, and pomegranate acai goat kefir. $8.95
Bulletin Board
Calling All Fruits & Nuts
The holidays are here and that can only mean one thing... It's time to renew your Fruit & Nut Club membership! If yo ...
Follow us on Twitter!
We're now on Twitter. Follow us @pronaturalfoods for updates on stocked items, promotions, and overall vibe.
Clostng Early Sunday December 15th
We're closing at 5pm on Sunday, December 15th. That's the day of our holiday party. Thanks for your understanding. ...
December Sale
Dandies
Classic Vanilla Vegan Marshmallows
$5.59 $3.50
Kyolic
Aged Garlic Extract Formula 100
$24.49 $16.99
Mary's Gone Crackers
Sea Salt Sticks & Twigs
$5.49 $3.39
Desert Essence
Coconut Hand & Body Lotion
$9.29 $5.99
Tofutti
Better Than Cream Cheese
$4.29 $2.79
Pamela's
Gluten Free Chunky Chocolate Chip Cookies
$4.99 $3.39
Cascadian Farm
Frozen Sweet Corn
$3.89 $2.49