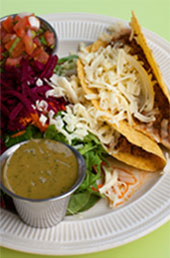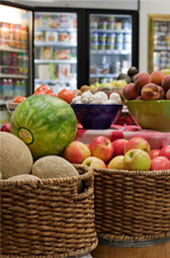 Corner of Bay &
Division Streets
Sag Harbor, New York
631-725-3636

FOLLOW US
Sag Harbor
Sailing Report
Wed, Dec 17, 2014
Water Temp:
loading...
Air Temp:
loading...
Wind:
loading...
Wednesday's Specials
Breakfast Specials
Breakfast Wrap
three scrambled eggs, spinach and feta $10.25
Omelette #1
veggie sausage, roasted peppers, and grilled onion $10.25
Omelette #2
mushroom and scallion $10.25
Soup Specials
Chicken and Rice
small $5.95 medium $6.95 large $11.95
Green Split Pea
small $5.95 medium $6.95 large $11.95
Lunch Specials
Asian Tortilla
miso, fuyu persimmons, steamed greens and spiced pumpkin seeds in a folded whole wheat tortilla with a side of ponzu sauce. $11.50
Chicken Tostadas
sprouted corn tortillas filled with black bean chili, seasoned pulled chicken, monterey jack, shredded lettuce, cilantro, salsa and served with a side of guacamole $12.95
Hummus Wrap
hummus, spinach, black olives, roasted tomatoes, grilled onion and crispy falafel chips in a sun-dried tomato tortilla $11.50
Miso Dashi Noodle Bowl
udon noodles tossed with scallion, kale, tofu, bok choi, mushrooms, carrots, daikon, tamari, sesame oil and gomasio. $9.95
Bean of the Day
Kidney Beans
Smoothie & Juice Specials
Cacao Mint
cacao nibs, mint, banana, hemp milk and vanilla spirutein $8.95
Dressed in Green
spinach, celery, kale, carrot, green apple, lemon $7.50
Mango Lassi
mango, mint, orange juice, rice milk and coconut milk yogurt. $7.95
Peanut Butter Berry
unsweetened help milk, peanut butter, mixed berries, and vanilla spirutein $8.95
Raspberry Mango
raspberries, mango, apple juice and rice milk. $7.95
Red Moon
chard, beet, apple, orange, ginger, cucumber $6.95
Sun Salutation
lemonade, orange juice, grapefruit juice and mint $6.95
Bulletin Board
CAFE CLOSING AT 2:30
the cafe will be closing early today, at 2:30, to accommodate a staff meeting. thanks for understanding.
Giving Thanks!
november was a fabulous month for charitable giving here at provisions! first, our bag donation resulted in nearl ...
December Bag Donations
For December, our bag donations are going to The Bridgehampon Child Care Center. What are bag donations? Simply p ...
December Sale
Naturade
Herbal Expectorant Cherry Flavor
$7.99 $5.79
Boiron
Oscillococcinum
$15.69 $10.49
Kiss My Face
Whenever Shampoo Green Tea & Lime
$7.99 $5.29
Jason
Calming Lavender Body Wash
$15.75 $9.99
Alba Botanica
Good & Clean Foaming Cleanser
$8.99 $5.99
Spectrum Naturals
Organic Extra Virgin Olive Oil
$19.59 $11.99
Newman's Own Organics
Organic Raisins
$4.49 $3.00