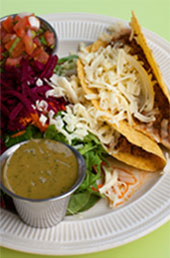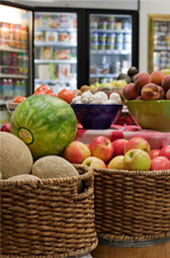 Corner of Bay &
Division Streets
Sag Harbor, New York
631-725-3636

FOLLOW US
Sag Harbor
Sailing Report
Thu, Jul 24, 2014
Water Temp:
loading...
Air Temp:
loading...
Wind:
loading...
Thursday's Specials
Breakfast Specials
Breakfast Wrap
three scrambled eggs, eggplant, zucchini, and tomato $10.25
Omelette #1
avocado and goat cheese $10.25
Omelette #2
mushroom, turkey bacon and parsley $10.25
Soup Specials
Mediterranean Red Lentil
small $5.95 medium $6.95 large $11.95
Yellow Split Pea
small $5.95 medium $6.95 large $11.95
Lunch Specials
Asian Noodle Salad
chilled udon noodles tossed with scallion and toasted sesame seeds topped with a salad of shaved napa cabbage, roasted shiitake mushrooms, cucumber, daikon, and hijiki with ginger-miso dressing. $12.95
Chickpea Stirfry
chickpeas, tomato and garlic sauteed in olive oil with basil and greens on a bed of brown rice. $12.50
Grilled Vegetable Quesadilla
spinach, mushrooms, peppers, onions, and zucchini with cheddar cheese in a sun-dried tomato tortilla. served with a side of basil pesto. $12.95
Open-Faced Turkey Loaf Sandwich
warm herbed turkey loaf with grilled onion, avocado and monterey jack on crisp lavash with a side salad. $11.50
Bean of the Day
Chickpeas
Smoothie & Juice Specials
Cacao Mint
cacao nibs, mint, banana, hemp milk and vanilla spirutein $8.95
Holy Cacao
hemp milk, blueberry, chocolate spirutein, and cacao powder $8.95
Peanut Butter Split
Peanut butter, frozen banana, whey protein and skim milk $8.95
Sun Salutation
lemonade, orange juice, grapefruit juice and mint $6.95
Very Berry
rice milk, mixed berries and whey protein $8.95
Zeus Juice
spinach, pear, lemon and zucchini small $6.95 large $8.95
Bulletin Board
WE'RE HIRING
We have a couple of full-time, year round positions available. The pay is competitive, the benefits are solid and the vibe i ...
Follow us on Twitter!
We're now on Twitter. Follow us @pronaturalfoods for updates on stocked items, promotions, and overall vibe.
July Bag Donations
For July, our bag donations will go to the Urban Zen Integrative Therapists at Southampton Hospital. ...
July Sale
Famila
Swiss Muesli
$8.29 $4.89
Yerba Prima
Daily Fiber Caps
$13.29 $8.99
Julie's Organics
Vanilla Ice Cream Sandwiches
$8.29 $5.49
Fage
Total Greek Yogurt 0% Fat
$2.49 $1.49
Vita Coco
Pure Coconut Water
$6.09 $2.85
Follow Your Heart
Grapeseed Vegenaise Dressing & Sandwich Spread
$7.89 $4.69
Tazo
Organic Iced Green Tea
$2.09 $1.25