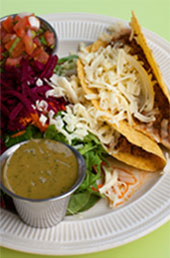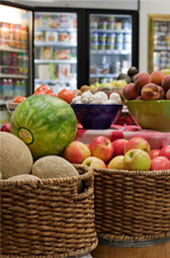 Corner of Bay &
Division Streets
Sag Harbor, New York
631-725-3636

FOLLOW US
Sag Harbor
Sailing Report
Wed, Aug 27, 2014
Water Temp:
loading...
Air Temp:
loading...
Wind:
loading...
Wednesday's Specials
Breakfast Specials
Breakfast Wrap
three scrambled eggs, spinach and feta $10.25
Omelette #1
roasted peppers and veggie sausage $10.25
Omelette #2
tomato and basil pesto $10.25
Soup Specials
Chicken and Rice
small $5.95 medium $6.95 large $11.95
Mediterranean Red Lentil
small $5.95 medium $6.95 large $11.95
Lunch Specials
Avocado & Goat Cheese Quesadilla
goat cheese, avocado, and corn salsa in a sun-dried tomato tortilla with a side of cilantro pumpkin seed pesto $12.95
Chicken and Mushroom Stir Fry
chicken and mushrooms over udon noodles with spinach, garlic, ginger, gomasio and tamari. $15.95
Chicken Taco Salad
seasoned pulled chicken, shredded romaine, corn, avocado, tomato, sunflower seeds and crispy corn tortilla strips with cilantro lime dressing $13.95
Turkey Loaf Wrap
herbed turkey loaf, cheddar cheese, arugula and roasted tomato puree on whole grain toast $12.50
Bean of the Day
Chickpeas
Smoothie & Juice Specials
Blueberry Banana
blueberries, banana, coconut water, rice milk, and vanilla whey protein. $8.95
Pineapple Delight
pineapple, banana, mint and coconut milk $7.50
Sun Salutation
lemonade, orange juice, grapefruit juice and mint $6.95
The Hempster
vanilla hemp milk, hemp seeds, hemp protein, banana and peanut butter. $8.95
Ultimate Smoothie
mixed berries, ultimate meal, apple juice, and rice milk $8.95
Zeus Juice
spinach, pear, lemon and zucchini small $6.95 large $8.95
Bulletin Board
WE'RE HIRING
We have a couple of full-time, year round positions available. The pay is competitive, the benefits are solid and the vibe i ...
Follow us on Twitter!
We're now on Twitter. Follow us @pronaturalfoods for updates on stocked items, promotions, and overall vibe.
July Bag Donations
For July, our bag donations will go to the Urban Zen Integrative Therapists at Southampton Hospital. ...
August Sale
Vermont Village
Organic Unsweetened Apple Sauce
$5.59 $2.89
Spectrum Naturals
Organic Refined Coconut Oil
$10.49 $6.49
Santa Cruz
Organic Peanut Butter Creamy Peanut Butter
$7.69 $4.99
Santa Cruz
Organic Apple Sauce Cups
$5.59 $3.50
R.W. Knudsen
Organic Lemonade Juice Packs
$4.59 $3.00
R.W. Knudsen
Organic Apple Juice Packs
$4.59 $3.00
Newman's Own Organics
Chocolate Vanilla Cream Cookie O's
$5.79 $3.99