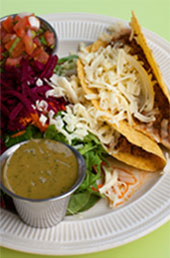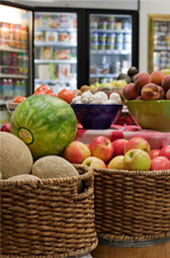 Corner of Bay &
Division Streets
Sag Harbor, New York
631-725-3636

FOLLOW US
Sag Harbor
Weather Report
Sat, Mar 25, 2017
Water Temp:
loading...
Air Temp:
loading...
Wind:
loading...
Saturday's Specials
Breakfast Specials
Avocado Toast
avocado, miso-tahini, red onions and black sesame seeds on whole grain toast $6.95
NEW! Huevos Rancheros
2 egg omelette, deep-flavored simmered salsa, monterey jack, refried pinto beans, corn tortillas, avocado and cilantro $9.50
Omelette #1
portobello $10.50
Omelette #2
spinach $10.50
Pancakes
plain $9.50 banana $10.50
Provisions' Egg Sandwich
two eggs on an organic english muffin, with arugula, and sun-dried tomato pesto $6.95
Soup Specials
Black Bean Corn Chowder
small $6.50 medium $7.50 large $12.50
Green Split Pea
small $6.50 medium $7.50 large $12.50
Lunch Specials
Mushroom and Rosemary Flatbread
crispy lavash with mushrooms, grilled onions, rosemary and monterey jack, served with local greens $11.95
Roasted Vegetable Quesadilla
roasted zucchini, mushrooms, onions, yellow & red peppers, cheddar cheese $12.95
Shepherd's Pie
cremini mushrooms, green & red lentils, carrots, peas, and onions with yukon gold mashed potatoes $12.50
Southwest Chicken Wrap
seared free-range chicken breast, brown rice, corn salsa, jack cheese, avocado and our bbq sauce in sun-dried tomato wrap $13.95
Bean of the Day
Chickpeas
Smoothie & Juice Specials
Aloha
organic orange juice, a splash of pineapple-coconut juice, pineapple, mango and strawberrie $8.25
Dressed in Green
spinach, celery, kale, carrot, green apple, lemon $7.50
Fresco
coconut water, banana, kale, pineapple & cashews $9.50
Freshly Green
cucumber, kale, apple, lemon & ginger sm. $7.50 lg. $8.95
Morning Sunrise
carrot, apple, beet & ginger sm. $7.50 lg. $8.95
Pineapple Delight
pineapple, banana, mint, orange juice and coconut water $7.50
Pretty in Pink
organic apple juice, strawberries, raspberries and pineapple $8.25
Red Moon
kale, beet, apple, orange, ginger, cucumber Sm. $7.50 Lg. $8.95
Wake Up Sun
carrot, apple, ginger and lemon small $7.50 large $8.95
Whey Nuts!
coconut water, banana, raw cashews, cacao nibs, peanut butter and whey protein. $9.50
Bulletin Board
Dr. Hauschka Skin Care Coaching Event Wednesday March 29th 6:30-8:00pm
Learn how to achieve radiant skin at any age! Attendees who register in advance will receive a free gift bag and ...
Check Out Our New Breakfast Specials
debuting in january, the smokey cauliflower frittata and our new "santa fe" corn muffin. recently we introduced ou ...
We're On Instagram!
Follow us on instagram via @pronaturalfoods.
March Sale
Sir Kenisington's
Avocado Oil Mayo
$10.79 $8.99
Alter Eco Americas
Royal Pearl Quinoa
$8.59 $5.99
Better Than Bouillon
Beef Base
$7.79 $4.99
Wild Planet
Low Mercury Tuna
$5.69 $3.49
Made In Nature
Dried Mangos
$6.95 $4.29
Nature's Answer
Black Elder Berry Extract
$15.29 $9.99
Hylands Homeopathic
Calms Forte Sleep Aid
$11.49 $7.99