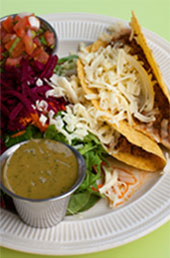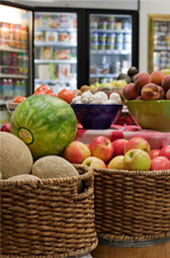 Corner of Bay &
Division Streets
Sag Harbor, New York
631-725-3636

FOLLOW US
Sag Harbor
Sailing Report
Sat, Jan 31, 2015
Water Temp:
loading...
Air Temp:
loading...
Wind:
loading...
Saturday's Specials
Breakfast Specials
Omelette #1
Sweet potato, grilled onion and parsley $10.25
Omelette #2
broccoli and cheddar $10.25
Pancakes
plain $9.25 banana $10.25
Soup Specials
Green Split Pea
small $5.95 medium $6.95 large $11.95
Roasted butternut squash and ginger
small $5.95 medium $6.95 large $11.95
Lunch Specials
Broccoli Flat Bread
crispy lavash, chopped broccoli, roasted garlic puree, crushed red pepper, pinto bean puree, basil oil and a side salad. $11.50
Mushroom Risotto and Roasted Butternut Squash
Mushroom-miso risotto and butternut squash on a bed of steamed greeens $9.95
Red Lentil and Coconut Daal
served over brown rice with steamed greens $9.95
Thai Chicken Wrap
pulled chicken breast, spicy thai peanut sauce and thai cabbage slaw in a spinach tortilla $13.95
Bean of the Day
Pinto Beans
Smoothie & Juice Specials
Cacao Mint
cacao nibs, mint, banana, hemp milk and vanilla spirutein $8.95
Dressed in Green
spinach, celery, kale, carrot, green apple, lemon $7.50
Peanut Butter Berry
unsweetened help milk, peanut butter, mixed berries, and vanilla spirutein $8.95
Pineapple Delight
pineapple, banana, mint, orange juice and coconut water $7.50
Raspberry Mango
raspberries, mango, apple juice and rice milk. $7.95
Red Moon
chard, beet, apple, orange, ginger, cucumber $6.95
Sun Salutation
lemonade, orange juice, grapefruit juice and mint $6.95
Bulletin Board
STORM HOURS
OPENING AT 11.
January Bag Donations
For January, our bag donations are going to Maureen's Haven. Maureen's Haven provides shelter, support an ...
Follow us on Twitter!
We're now on Twitter. Follow us @pronaturalfoods for updates on stocked items, promotions, and overall vibe.
January Sale
Jason Natural Cosmetics
Powersmile Peppermint Whitening Toothpaste
$7.29 $4.99
Alba Botanica
Unscented Body Lotion
$18.89 $12.99
Boiron
Coldcalm
$12.29 $8.99
Santa Cruz Organic
Organic Apple Sauce
$5.59 $3.79
Earth Friendly Products
ECOS Free & Clear Laundry Detergent
$15.69 $10.49
Newman's Own Organics
Organic Spelt Pretzels
$4.29 $3.00
Lundberg Family Farm
Organic Salt Free Brown RIce Cakes
$4.99 $3.00