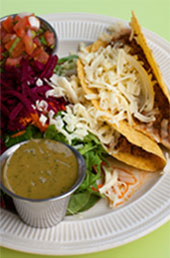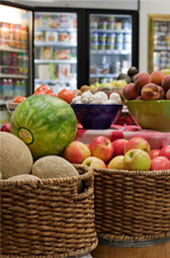 Corner of Bay &
Division Streets
Sag Harbor, New York
631-725-3636

FOLLOW US
Sag Harbor
Sailing Report
Thu, Nov 26, 2015
Water Temp:
loading...
Air Temp:
loading...
Wind:
loading...
Wednesday's Specials
Breakfast Specials
Breakfast Wrap
three scrambled eggs, spinach, and broccoli $10.95
Omelette #1
mushroom, grilled onion, and parsley $10.50
Omelette #2
roasted sweet peppers, sun-dried tomatoes, and basil $10.50
Soup Specials
Chicken and Rice
small $6.25 medium $7.25 large $12.25
Green Split Pea
small $6.25 medium $7.25 large $12.25
Lunch Specials
Caesar Salad
romaine hearts, whole grain or gluten-free croutons and vegan caesar dressing $8.95 with grilled chicken $13.95. with grilled tempeh or tofu $11.50.
Chicken Arugula Wrap
pulled roasted chicken, arugula, monterey jack, and green herb dressing in a spinach tortilla $13.95
Portobello Quesadilla
roasted portobello, monterey jack, and bean puree in a sun-dried tomato tortilla with a side of guacamole and tomato salsa. $13.25
Red Beans and Rice
creole-style red beans and rice with steamed greens and corn bread $9.95
Bean of the Day
Pinto Beans
Smoothie & Juice Specials
Pineapple Mango
pineapple, mango, rice milk and whey protein $7.95
Pumpkin Spice
pumpkin puree, banana, cinnamon, ginger and coconut milk $8.95
Raspberry Mango
raspberries, mango, apple juice and rice milk. $7.95
Red Moon
chard, beet, apple, orange, ginger, cucumber $6.95
Sun Salutation
lemonade, orange juice, grapefruit juice and mint $6.95
Wake Up Sun
carrot, apple, ginger and lemon small $7.50 large $8.95
Whey Nuts!
coconut water, banana, raw cashews, cacao nibs, peanut butter and whey protein. $9.25
Bulletin Board
We're On Instagram!
Follow us on instagram via @pronaturalfoods.
Follow us on Twitter!
We're now on Twitter. Follow us @pronaturalfoods for updates on stocked items, promotions, and overall vibe.
November Sale
One With Nature
Eucalyptus Mineral Bath Salts
$14.99 $9.99
Avalon Active Organics
Vitamin C Renewal Facial Cream
$21.99 $14.99
Jason Natural Products
Sea Fresh Strengthening Toothpaste
$6.99 $4.99
Alba Botanica
Hawaiian Oil Free Moisturizer
$19.59 $13.99
Twist
Scrub Sponge
$4.29 $2.49
Woodstock
Organic Wild Blueberries
$7.29 $4.99
Wholly Wholesome
Organic 9" Traditional Pie Shell
$6.45 $3.99