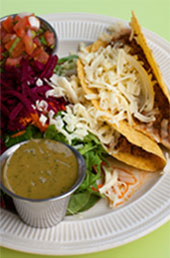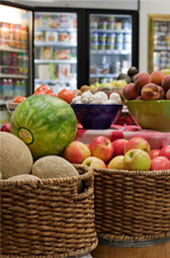 Corner of Bay &
Division Streets
Sag Harbor, New York
631-725-3636

FOLLOW US
Sag Harbor
Weather Report
Sat, May 30, 2015
Water Temp:
loading...
Air Temp:
loading...
Wind:
loading...
Saturday's Specials
Breakfast Specials
Omelette #1
mushroom duxelle and grilled onions $10.25
Omelette #2
avocado and goat cheese $10.25
Pancakes
plain $9.25 banana $10.25
Soup Specials
Minestrone
small $5.95 medium $6.95 large $11.95
Moroccan Red Lentil
small $5.95 medium $6.95 large $11.95
Lunch Specials
Caesar Salad
romaine lettuce, whole grain or gluten-free croutons and vegan caesar dressing $8.95 with grilled chicken $13.95. with grilled tempeh or tofu $11.50.
Hummus Wrap
hummus, spinach, black olives, roasted tomatoes, grilled onion and crispy falafel chips in a sun-dried tomato tortilla $11.50
Miso Dashi Noodle Bowl
chilled soba noodles in dashi with sweet miso, scallion, tofu,kale, shiitake mushrooms, carrot, daikon, gomasio and sesame oil. $9.95
Mushroom and Rosemary Flatbread
crispy lavash, cremini mushrooms, grilled onions, rosemary, monterey jack, and a side salad $11.95
Bean of the Day
Pinto Beans
Smoothie & Juice Specials
Chocolate Peanut Butter
chocolate rice dream, peanut butter, banana, cacao nibs and chocolate spirutein $8.95
Holy Cacao
hemp milk, blueberry, chocolate spirutein, and cacao powder $8.95
Mango Lassi
mango, mint, orange juice, rice milk and coconut milk yogurt. $7.95
Strawberry Mango
strawberries, mango, yogurt, mint, and pineapple coconut juice $7.50
Bulletin Board
May Bag Donation
For May, we'll be donating our bag proceeds to The East End Special Explorers club. (Healthy cooking and art workshops) ...
We're On Instagram!
Follow us on instagram via @pronaturalfoods.
Follow us on Twitter!
We're now on Twitter. Follow us @pronaturalfoods for updates on stocked items, promotions, and overall vibe.
May 2015 Sale
Dr. Bronner's
All-One Peppermint Toothpaste
$6.49 $4.49
Santa Cruz Organic
Organic Apple Sauce
$5.59 $3.00
Love Child Organics
Organic Apples, Spinach, Kiwi & Broccoli Puree
$2.59 $1.29
Rainbow Light
Embrace Prenatal 35+
$49.99 $27.99
Maple Hill Creamery
Organic Lemon Yogurt
$2.05 $1.25
Bearitos
Low Fat Traditional Refried Beans
$3.39 $2.00
Kiss My Face
Natural Active Life Sport Deodorant
$5.99 $4.00