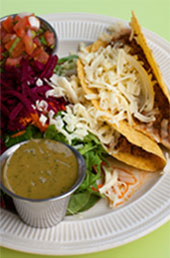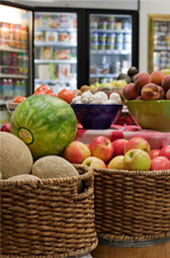 Corner of Bay &
Division Streets
Sag Harbor, New York
631-725-3636

FOLLOW US
Sag Harbor
Sailing Report
Fri, Oct 31, 2014
Water Temp:
loading...
Air Temp:
loading...
Wind:
loading...
Thursday's Specials
Breakfast Specials
Breakfast Wrap
three scrambled eggs, mushroom and spinach $10.25
Omelette #1
broccoli and cheddar $10.25
Omelette #2
veggie sausage and grilled onion $10.25
Soup Specials
Black Bean & Cabbage
small $5.95 medium $6.95 large $11.95
Chicken and Rice
small $5.95 medium $6.95 large $11.95
Lunch Specials
Cashew and Sesame Cauliflower
cauliflower tossed with a cashew and sesame sauce over brown rice, wilted greens, and topped with pear relish $9.95
Grilled Vegetable Quesadilla
spinach, mushrooms, peppers, onions, and zucchini with cheddar cheese in a sun-dried tomato tortilla. served with a side of basil pesto. $12.95
Hummus Wrap
hummus, spinach, black olives, roasted tomatoes, grilled onion and crispy falafel chips in a sun-dried tomato tortilla $11.50
Local Arugula and Green Bean
arugula, grilled radicchio and dried beans in shallot mustard dressing with red onion, celery, and local watermelon radish $10.95
Bean of the Day
Pinto Beans
Smoothie & Juice Specials
Cacao Mint
cacao nibs, mint, banana, hemp milk and vanilla spirutein $8.95
Hallowgreen
Spinach, Kale, Green Apple, Parsley, Cucumber $7.25
Peanut Butter Berry
unsweetened help milk, peanut butter, mixed berries, and vanilla spirutein $8.95
Pumpkin Spice
pumpkin puree, banana, cinnamon, ginger and coconut milk $8.95
Raspberry Mango
raspberries, mango, apple juice and rice milk. $7.95
Rootsicle
sweet potato, orange, and carrot small $5.50 large $7.25
Bulletin Board
Winter Squash Tasting RESULTS
Delicata Wins, with Confection Kabocha and Sweet Dumpling very close behind in a tie for runner up! Thank you to ...
WE'RE HIRING
We have a couple of full-time, year round positions available. The pay is competitive, the benefits are solid and the vibe i ...
October Bag Donations
For October, our bag donations are going to The Sag Harbor Food Pantry. The Sag Harbor Community Food Pa ...
October Sale
Purely Elizabeth
Pumpkin Fig Granola
$8.39 $5.89
Hope Hummus
Organic Spicy Avocado Hummus
$6.29 $4.49
Dr. Bronner's
Lavender Castile Liquid Soap
$17.99 $10.99
Earth's Best
Organic Banana Blueberry Baby Food Puree
$2.39 $1.25
Nutrition Now
PB8 Pro-Biotic Acidophilus
$24.99 $16.99
Imagine Foods
Organic Butternut Squash Soup
$5.89 $3.29
Kiss My Face
Natural Deodorant Active Life, Sport
$5.99 $3.99