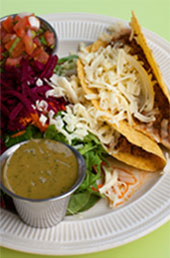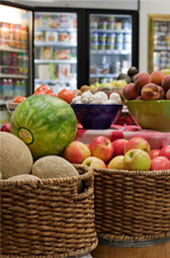 Corner of Bay &
Division Streets
Sag Harbor, New York
631-725-3636

FOLLOW US
Sag Harbor
Weather Report
Thu, Jun 30, 2016
Water Temp:
loading...
Air Temp:
loading...
Wind:
loading...
Wednesday's Specials
Breakfast Specials
Breakfast Wrap
three scrambled eggs with broccoli and feta $10.95
Omelette #1
tomato and basil $10.50
Omelette #2
oyster mushroom and parsley $10.50
Soup Specials
Chicken and Rice
small $6.25 medium $7.25 large $12.25
Curried Coconut Lentil
small $6.25 medium $7.25 large $12.25
Lunch Specials
Broccoli Feta Quesadilla
chopped broccoli with light garlic and crushed red pepper, whipped feta cheese, grilled onion, oregano, and whole lemon dipping sauce $12.50
Cashew and Sesame Cauliflower
cauliflower braised in a cashew-sesame-coconut sauce over brown rice with wilted greens and pear relish $9.95
Chicken and Mushroom Stir Fry
chicken and mushrooms over udon noodles with spinach, garlic, ginger, and scallion, seasoned with sesame and tamari. $15.95
Portobello Wrap
roasted portobello mushrooms, grilled onion, brown rice, and corn salsa, with chipotle dressing in a sun-dried tomato tortilla. $11.95
Bean of the Day
Pinto Beans
Smoothie & Juice Specials
Brighten Your Date
almond milk, hemp milk, rolled oats, banana and dates $8.95
Fabulous Fennel
fennel greens, celery, cucumber, apple, and a touch of lime $6.95
Freshly Green
cucumber, kale, apple, lemon & ginger
Fruit and Nut
almond milk, orange juice, banana, raspberries & pineaple $8.95
It Ain't Easy Being Green
coconut water, pineapple-coconut juice, banana, mango & green vibrance $8.95
Mango Lassi
mango, mint, orange juice, rice milk and coconut milk yogurt. $7.95
Morning Sunrise
carrot, apple, beet & ginger
Sun Salutation
lemonade, orange juice, grapefruit juice and mint $6.95
Wake Up Sun
carrot, apple, ginger and lemon small $7.50 large $8.95
Bulletin Board
We're On Instagram!
Follow us on instagram via @pronaturalfoods.
Follow us on Twitter!
We're now on Twitter. Follow us @pronaturalfoods for updates on stocked items, promotions, and overall vibe.
The Bug Stick is Here!
We are now carrying the Bug Stick, Sun Stick and Skin Stick by Dr. Ferdorenko!
June Sale
Giovanni Hair Care Products
2Chic Shampoo
$8.99 $5.99
Citronella Outdoor Sticks
Outdoor Citronella Sticks
$6.29 $4.19
Spectrum Naturals
Organic Extra Virgin Olive Oil
$22.09 $12.99
All Terrain
Herbal Armor Insect Repellent
$10.29 $6.79
Alba Botanica
Hawaiian Sunscreen SPF 45
$10.99 $7.99
Natural Vitality
Natural Calm Anti-Stress Drink
$23.95 $14.99
Kyo Green
Energy Drink Mix
$33.95 $24.99