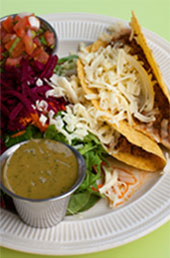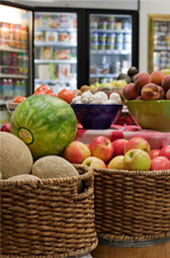 Corner of Bay &
Division Streets
Sag Harbor, New York
631-725-3636

FOLLOW US
Sag Harbor
Sailing Report
Thu, Jul 28, 2016
Water Temp:
loading...
Air Temp:
loading...
Wind:
loading...
Thursday's Specials
Breakfast Specials
Breakfast Wrap
three scrambled eggs with spinach and feta $10.95
Omelette #1
zucchini and pesto $10.50
Omelette #2
mushroom and grilled onion $10.50
Soup Specials
Chilled Tomato Basil
small $6.50 medium $7.50 large $12.50
Yellow Split Pea
small $6.25 medium $7.25 large $12.25
Lunch Specials
Chicken and Mushroom Stir Fry
chicken and mushrooms over udon noodles with spinach, garlic, ginger, and scallion, seasoned with sesame and tamari. $15.95
Herbed Turkey Loaf
Mashed Sweet Potatoes, Steamed Greens & Mushroom Sauce $9.95
Portobello Wrap
roasted portobello mushrooms, grilled onion, brown rice, and corn salsa, with chipotle dressing in a sun-dried tomato tortilla. $11.95
Spinach & Mushroom Quesadilla
roasted mushrooms, spinach, monterey jack, and bean puree in a spinach tortilla. with a side of guacamole and tomato salsa. $13.25
Bean of the Day
Kidney Beans
Smoothie & Juice Specials
Aloha
organic orange juice, a splash of pineapple-coconut juice, pineapple, mango and strawberries $8.95
Fabulous Fennel
fennel greens, celery, cucumber, apple, and a touch of lime $6.95
Freshly Green
cucumber, kale, apple, lemon & ginger
It Ain't Easy Being Green
coconut water, pineapple-coconut juice, banana, mango & green vibrance $8.95
Mango Lassi
mango, mint, orange juice, rice milk and coconut milk yogurt. $7.95
Morning Sunrise
carrot, apple, beet & ginger
Pretty in Pink
organic apple juice, strawberries, raspberries and pineapple $8.95
Sun Salutation
lemonade, orange juice, grapefruit juice and mint $6.95
Wake Up Sun
carrot, apple, ginger and lemon small $7.50 large $8.95
Watermelon Juice
$4.25
Whey Nuts!
coconut water, banana, raw cashews, cacao nibs, peanut butter and whey protein. $9.50
Bulletin Board
We're On Instagram!
Follow us on instagram via @pronaturalfoods.
Follow us on Twitter!
We're now on Twitter. Follow us @pronaturalfoods for updates on stocked items, promotions, and overall vibe.
The Bug Stick is Here!
We are now carrying the Bug Stick, Sun Stick and Skin Stick by Dr. Ferdorenko!
JULY SALE
Spectrum Naturals
Organic Coconut Oil
$11.39 $6.99
Redwood Hill Farm
Blueberry Goat Milk Yogurt`
$3.19 $2.00
Taza Chocolate
Sea Salt & Almond Chocolate Bar
$4.89 $3.50
Lightlife Foods
Smart Dogs
$5.49 $3.50
Against The Grain
Gluten-Free Baguette
$9.09 $5.99
Wildwood Natural Foods
Organic Teriyaki Baked Tofu
$5.59 $3.50
Alba Botanica
Hawaiian Oil-Free Moisturizer
$19.59 $13.99