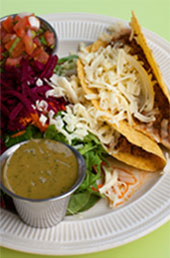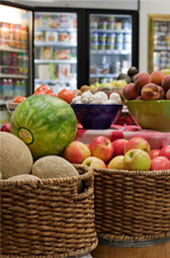 Corner of Bay &
Division Streets
Sag Harbor, New York
631-725-3636

FOLLOW US
Sag Harbor
Sailing Report
Wed, Oct 22, 2014
Water Temp:
loading...
Air Temp:
loading...
Wind:
loading...
Wednesday's Specials
Breakfast Specials
Breakfast Wrap
three scrambled eggs, sweet peppers and goat cheese $10.25
Omelette #1
roasted tomato and roasted squash $10.25
Omelette #2
mushroom and grilled onion $10.25
Soup Specials
Local Squash Bisque
small $5.95 medium $6.95 large $11.95
Mediterranean Red Lentil
small $5.95 medium $6.95 large $11.95
Lunch Specials
Cauliflower with Cashew-Sesame Seed Sauce
brown rice, wilted greens and pear relish $9.95
Hummus Wrap
hummus, spinach, black olives, roasted tomatoes, grilled onion and crispy falafel chips in a sun-dried tomato tortilla $11.50
Portobello Quesadilla
roasted portobello, monterey jack and bean puree in a tomato tortilla with a side of guacamole and tomato salsa. $13.25
Warm French Lentil and Beet Salad
de puy lentils, roasted beets, arugula, goat cheese, and shallot mustard dressing. $13.25
Bean of the Day
Kidney Beans
Smoothie & Juice Specials
Cacao Mint
cacao nibs, mint, banana, hemp milk and vanilla spirutein $8.95
Iytal Juice
spinach, lime, ginger, pear and celery small $7.50 large $9.50
Peanut Butter Berry
unsweetened help milk, peanut butter, mixed berries, and vanilla spirutein $8.95
Pumpkin Spice
pumpkin puree, banana, cinnamon, ginger and coconut milk $8.95
Raspberry Mango
raspberries, mango, apple juice and rice milk. $7.95
Rootsicle
sweet potato, orange, and carrot small $5.50 large $7.25
Bulletin Board
WE'RE HIRING
We have a couple of full-time, year round positions available. The pay is competitive, the benefits are solid and the vibe i ...
October Bag Donations
For October, our bag donations are going to The Sag Harbor Food Pantry. The Sag Harbor Community Food Pa ...
Follow us on Twitter!
We're now on Twitter. Follow us @pronaturalfoods for updates on stocked items, promotions, and overall vibe.
October Sale
Purely Elizabeth
Pumpkin Fig Granola
$8.39 $5.89
Hope Hummus
Organic Spicy Avocado Hummus
$6.29 $4.49
Dr. Bronner's
Lavender Castile Liquid Soap
$17.99 $10.99
Earth's Best
Organic Banana Blueberry Baby Food Puree
$2.39 $1.25
Nutrition Now
PB8 Pro-Biotic Acidophilus
$24.99 $16.99
Imagine Foods
Organic Butternut Squash Soup
$5.89 $3.29
Kiss My Face
Natural Deodorant Active Life, Sport
$5.99 $3.99