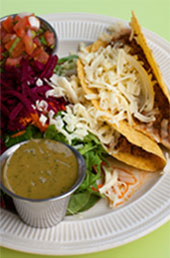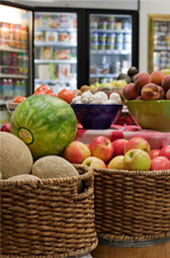 Tuesday's Specials
Breakfast Specials
Avocado Toast
sliced avocado, miso-tahini spread, red onion, olive oil and black sesame seeds on whole grain toast. 7.95
Breakfast Wrap
onion and veggie sausage. 13.95
Huevos Rancheros
corn tortillas with two eggs, ranchero sauce, monterey jack, pureed beans, avocado and cilantro. 9.75
Omelette #1
spinach and mushrooms. 11.95
Omelette #2
scallion, avocado and goat cheese 13.95
Soup Specials
Chicken and Rice
small $6.95 medium $7.95 large $12.95
Curried Coconut Lentil
small $6.95 medium $7.95 large $12.95
Lunch Specials
Creole Wrap
seasoned pulled chicken, jambalaya rice and chipotle dressing in a whole wheat tortilla. 14.95
Millet Cakes
millet cakes over roasted eggplant, white beans, and pumpkin seeds with steamed greens and a carrot ginger dressing. 11.95
Roasted Chicken Sandwich
roasted chicken, avocado, arugula, and sun-dried tomato pesto on whole grain toast. served with a side salad. 14.75
Vegan Quesadilla
yam and bean mash, chili-spiced pumpkin seeds and steamed greens in a spinach tortilla. 12.95
Bean of the Day
Great Northern
Smoothie Specials
Fresco
coconut water, banana, kale, pineapple and cashews. 9.50
Holy Cacao
hemp milk, blueberries, mango, banana, chocolate rice protein and cacao powder. 9.50
PB & J
peanut butter, strawberries, blueberries, raspberries and rice milk. 9.50
The Hempster
vanilla hemp milk, hemp seeds, hemp protein, banana and peanut butter. 9.50
Whey Cool
whey protein, strawberries, banana, mint and rice milk. 9.50
Juice Specials
Dressed in Green
spinach, celery, kale, carrot, apple and lemon. 8.50
Freshly Green
cucumber, kale, apple, lemon and ginger. small 8.50 large 9.75
Morning Sunrise
carrot, apple, beet and ginger. small 8.50 large 9.75
Wake Up Sun
carrot, apple, ginger and lemon. small 8.50 large 9.75
Community
CBD TALK MONDAY May 6th 6:30-8PM in the cafe!
Join us in the café for a discussion with Jill Fagin, (cancer survivor and founder of NYC Botanics), learn about the end ...
APRIL'S BAG CHARITY DONATION will go to PECONIC LAND TRUST
Since 1983, the Trust has worked diligently with landowners, communities, municipalities, and partner organizations to protect ...
Provisions Community Events
Please ask to sign the contact list at the register to receive info for upcoming evening events such as workshops, seminars, ...
April Sale
Earthbound Farm
Frozen Organic Blueberries
15.49 9.29
Lundberg Family Farms
Organic White Jasmine Rice
9.29 5.79
Mary's Gone Crackers
Organic Everything Super Seed Crackers
6.79 4.49
Felicia Organic
Organic Buckwheat Pasta
5.29 3.29
So Delicious
Dairy Free Cocowhip!
5.79 2.99
Bee & Flower
Sandalwood Bar Soap
1.49 0.99
Food For Life
Organic Flax Bread
7.39 5.49