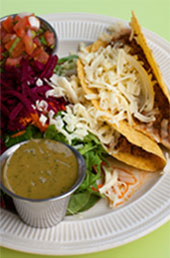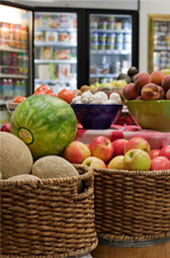 Corner of Bay &
Division Streets
Sag Harbor, New York
631-725-3636

FOLLOW US
Sag Harbor
Weather Report
Thu, Apr 24, 2014
Water Temp:
loading...
Air Temp:
loading...
Wind:
loading...
Wednesday's Specials
Breakfast Specials
Breakfast Wrap
three scrambled eggs with broccoli and bacon $10.25
Omelette #1
roasted tomato and goat cheese $10.25
Omelette #2
veggie sausage and roasted peppers $10.25
Soup Specials
Minestrone
small $5.95 medium $6.95 large $11.95
Yellow Split Pea
small $5.95 medium $6.95 large $11.95
Lunch Specials
Avocado & Goat Cheese Quesadilla
goat cheese, avocado, and corn salsa in a sun-dried tomato tortilla with a side of cilantro pumpkin seed pesto $12.95
Caesar Salad
romaine lettuce, multi-grain croutons and vegan caesar dressing $8.95 with grilled chicken $13.95. with grilled tempeh $11.50. with tofu $11.50.
Hummus Wrap
hummus, spinach, kalamata olives, roasted tomatoes, grilled onion, and crunchy falafel chips in a sun-dried tomato tortilla $11.50
Red Beans and Rice
creole/vegan-style red beans and rice with steamed greens and corn bread. $9.95
Bean of the Day
Black Beans
Smoothie & Juice Specials
Blueberry Banana
blueberries, banana, coconut water, rice milk, and vanilla whey protein. $8.95
Holy Cacao
hemp milk, blueberry, mango, banana, chocolate spirutein, and cacao powder $8.95
Hytal Fresh Juice
baby spinach, green apple, celery, lemon and ginger small $7.50 large $9.50
Peanut Butter Berry
unsweetened help milk, peanut butter, mixed berries, and vanilla spirutein $8.95
Strawberry Banana
Organic strawberries, organic bananas, freshly squeezed orange juice and Rice Dream. $6.50
Bulletin Board
April Bag Donations
For April, our bag donations will go to The East End Hospice. EE Hospice is ...
***WE'RE HIRING***
We're looking for a full-time and dedicated new employee who is going to bring a positive attitude and strong work ethic ...
Follow us on Twitter!
We're now on Twitter. Follow us @pronaturalfoods for updates on stocked items, promotions, and overall vibe.
April 2014 Sale
Nasoya Tofu
Firm Tofu
$3.29 $2.19
Spectrum Naturals
Organic Unrefined Coconut Oil
$12.69 $7.49
Dr. Bronner's
Peppermint Castile Soap
$17.99 $11.19
Rising Moon Organics
Butternut Squash Ravioli
$5.29 $3.49
Culturelle
Probiotic With Lactobacillus GG
$29.29 $20.49
Jason Natural Products
Sea Fresh Toothpaste
$6.99 $4.99
Seventh Generation
Bath Tissue
$13.69 $8.99