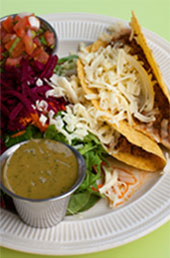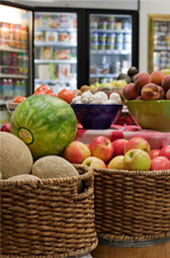 Corner of Bay &
Division Streets
Sag Harbor, New York
631-725-3636

FOLLOW US
Sag Harbor
Sailing Report
Sun, Feb 26, 2017
Water Temp:
loading...
Air Temp:
loading...
Wind:
loading...
Sunday's Specials
Breakfast Specials
Avocado Toast
avocado, miso-tahini, red onions and black sesame seeds on whole grain toast $6.95
NEW! Huevos Rancheros
2 egg omelette, deep-flavored simmered salsa, monterey jack, refried pinto beans, corn tortillas, avocado and cilantro $9.50
Omelette #1
tomatoes & basil $10.50
Omelette #2
spinach and feta $10.50
Pancakes
plain $9.50 banana $10.50
Provisions' Egg Sandwich
two eggs on an organic english muffin, with arugula, and sun-dried tomato pesto $6.95
Soup Specials
Chicken and Rice
small $6.50 medium $7.50 large $12.50
White Bean, Tomato & Basil
small $6.50 medium $7.50 large $12.50
Lunch Specials
Chicken and Arugula Wrap
seared free-range chicken, monterey jack, and arugula with green-herb dressing in a spinach wrap $13.95
Grilled Vegetable Quesadilla
spinach, mushrooms, peppers, onions, and zucchini with cheddar cheese in a sun-dried tomato tortilla. served with a side of basil pesto $12.95
Shepherds Pie
cremini mushrooms, green & red lentils, carrots, peas, onions with yukon gold mashed potatoes $12.50
Turkey Meatloaf
mashed sweet potatoes, mushroom gravy and steamed greens $11.95
Bean of the Day
Kidney Beans
Smoothie & Juice Specials
Aloha
organic orange juice, a splash of pineapple-coconut juice, pineapple, mango and strawberrie $8.25
Dressed in Green
spinach, celery, kale, carrot, green apple, lemon $7.50
Fresco
coconut water, banana, kale, pineapple & cashews $9.50
Freshly Green
cucumber, kale, apple, lemon & ginger sm. $7.50 lg. $8.95
Morning Sunrise
carrot, apple, beet & ginger sm. $7.50 lg. $8.95
Pineapple Delight
pineapple, banana, mint, orange juice and coconut water $7.50
Pretty in Pink
organic apple juice, strawberries, raspberries and pineapple $8.25
Red Moon
kale, beet, apple, orange, ginger, cucumber Sm. $7.50 Lg. $8.95
Wake Up Sun
carrot, apple, ginger and lemon small $7.50 large $8.95
Whey Nuts!
coconut water, banana, raw cashews, cacao nibs, peanut butter and whey protein. $9.50
Bulletin Board
Check Out Our New Breakfast Specials
debuting in january, the smokey cauliflower frittata and our new "santa fe" corn muffin. recently we introduced ou ...
We're On Instagram!
Follow us on instagram via @pronaturalfoods.
Follow us on Twitter!
We're now on Twitter. Follow us @pronaturalfoods for updates on stocked items, promotions, and overall vibe.
February Sale
Food For Life Baking Co.
Sprouted English Muffin
$6.59 $4.79
Crofters
Berry Harvest Premium Spread
$6.89 $4.19
Organic Valley
Wild Blueberry Grassmilk Yogurt
$2.75 $1.49
Spectrum Essentials
Premium Ground Flaxseed
$7.89 $4.99
Kiss My Face
Olive & Aloe Moisturizer
$10.39 $6.49
Kyolic
Formula 100 Garlic Extract
$25.75 $18.99
Hope Hummus
Hot Green Chile Guacamole
$10.39 $6.99