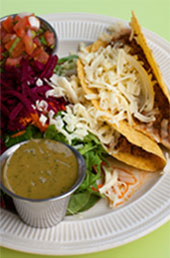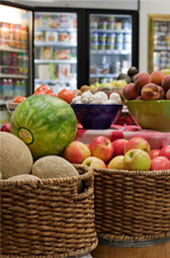 Corner of Bay &
Division Streets
Sag Harbor, New York
631-725-3636

FOLLOW US
Sag Harbor
Weather Report
Mon, Jun 29, 2015
Water Temp:
loading...
Air Temp:
loading...
Wind:
loading...
Monday's Specials
Breakfast Specials
Breakfast Wrap
three scrambled eggs, arugula, and avocado $10.25
Omelette #1
broccoli and cheddar $10.25
Omelette #2
portobello mushroom and onion $10.25
Soup Specials
Curried Coconut Lentil
small $5.95 medium $6.95 large $11.95
White Bean and Kale
small $5.95 medium $6.95 large $11.95
Lunch Specials
Avocado & Goat Cheese Quesadilla
goat cheese, avocado, and corn salsa in a sun-dried tomato tortilla with a side of cilantro-and-pumpkin-seed pesto. $12.95
Cashew and Sesame Cauliflower
cauliflower braised in a cashew-sesame-coconut sauce over brown rice with wilted greens and pear relish $9.95
Creole Wrap
seasoned pulled chicken and jambalaya rice with roasted sweet peppers and chipotle dressing in a sundried tomato tortilla. $13.95
Vegetable Medley with Friends
local english peas, snow peas, mushroom, and asparagus in a vegetable broth with either herbed turkey meatballs or miso-glazed tofu $13.95
Bean of the Day
Pinto Beans
Smoothie & Juice Specials
Blueberry Banana
blueberries, banana, coconut water, rice milk, and vanilla whey protein. $8.95
Pineapple Delight
pineapple, banana, mint, orange juice and coconut water $7.50
Rootsicle
sweet potato, orange, carrot and ginger small $6.25 large $8.95 $5.50
Strawberry swirl
Organic strawberries,banana ,yogurt, vanilla Rice Dream and Nature's Plus strawberry spirutein. $8.95
Sun Salutation
lemonade, orange juice, grapefruit juice and mint $6.95
Wake Up Sun
carrot, apple, ginger and lemon small $7.50 large $8.95
Whey Nuts!
coconut water, banana, raw cashews, cacao nibs, peanut butter and whey protein. $9.25
Bulletin Board
We're On Instagram!
Follow us on instagram via @pronaturalfoods.
Follow us on Twitter!
We're now on Twitter. Follow us @pronaturalfoods for updates on stocked items, promotions, and overall vibe.
June Sale
Dr. Bronner's
All-One Peppermint Toothpaste
$6.49 $4.49
Peace Cereal
Organic Maple Buckwheat Hemp Cereal
$5.89 $3.49
Kevita
Mojita Lime Probiotic Drink
$4.09 $2.79
Paesana
Organic Marinara Sauce
$9.09 $5.79
Alba Botanica
Natural Hawaiian Green Tea Sunscreen SPF 45
$10.99 $7.99
Maranatha
Organic Salted Creamy Peanut Butter
$10.79 $6.99
Nancy's
Organic Unsweetened Plain Soy Yogurt
$2.39 $1.39