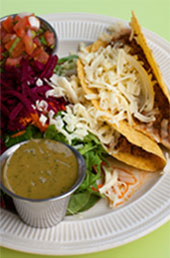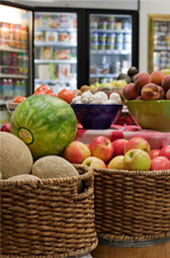 Corner of Bay &
Division Streets
Sag Harbor, New York
631-725-3636

FOLLOW US
Sag Harbor
Weather Report
Sat, Apr 25, 2015
Water Temp:
loading...
Air Temp:
loading...
Wind:
loading...
Saturday's Specials
Breakfast Specials
Omelette #1
zucchini and roasted tomato $10.25
Omelette #2
mushroom duxelle and avocado $10.25
Pancakes
plain $9.25 banana $10.25
Soup Specials
Chicken & Vegetable
small $5.95 medium $6.95 large $11.95
Coconut Curry Lentil
small $5.95 medium $6.95 large $11.95
Lunch Specials
Asian Noodle Salad
udon noodles tossed with scallion and toasted sesame seeds, topped with a salad of napa cabbage, roasted shitake mushrooms, cucumber, daikon, and hijiki in a ginger-miso dressing. $12.95
Avocado & Goat Cheese Quesadilla
goat cheese, avocado, and corn salsa in a sun-dried tomato tortilla with a side of cilantro-and-pumpkin-seed pesto. $12.95
Baked Eggplant Bayaldi Salad
grilled romaine spears, baked eggplant with herbs and tomato, quinoa, and pumpkin seeds with roasted red onion balsamic dressing. $12.50
Pineapple Chicken Wrap
seared chicken breast, brown rice, shredded lettuce and pineapple salsa with a side of cilantro-pumpkinseed pesto in a whole wheat tortilla $14.50
Bean of the Day
Chickpeas
Smoothie & Juice Specials
Chocolate Peanut Butter
chocolate rice dream, peanut butter, banana, cacao nibs and chocolate spirutein $8.95
Holy Cacao
hemp milk, blueberry, chocolate spirutein, and cacao powder $8.95
Mango Lassi
mango, mint, orange juice, rice milk and coconut milk yogurt. $7.95
Strawberry Mango
strawberries, mango, yogurt, mint, and pineapple coconut juice $7.50
Bulletin Board
April Bag Donation
For April, we'll be donating our bag proceeds to Katy's Courage. Each transaction at Provisions results i ...
We're On Instagram!
Follow us on instagram via @pronaturalfoods.
Follow us on Twitter!
We're now on Twitter. Follow us @pronaturalfoods for updates on stocked items, promotions, and overall vibe.
April Sale
Earth's Best Organics
Organic Apple Blueberry
$1.89 $1.25
Earth's Best Organics
Organic Pear Apricot Carrot Pouch
$2.29 $1.25
Earth's Best Organics
Organic Carrots & Broccoli Pouch
$2.29 $1.25
Earth's Best Organics
Organic Sweet Potatoes
$1.79 $1.25
Garden of Eatin'
Blue Corn Tortilla Chips
$4.29 $2.50
Earth's Best Organics
Organic Prunes and Oatmeal
$1.79 $1.25
Avalon
Nourishing Lavender Shampoo
$10.59 $6.99