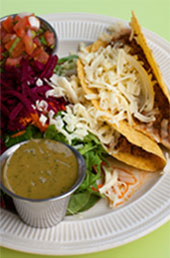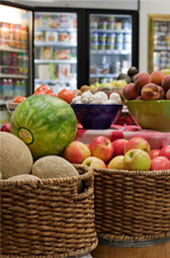 Corner of Bay &
Division Streets
Sag Harbor, New York
631-725-3636

FOLLOW US
Sag Harbor
Weather Report
Sun, Mar 1, 2015
Water Temp:
loading...
Air Temp:
loading...
Wind:
loading...
Sunday's Specials
Breakfast Specials
Omelette #1
broccoli and cheddar $10.25
Omelette #2
mushroom and spinach $10.25
Pancakes
plain $9.25 banana $10.25
Soup Specials
Chicken and Rice
small $5.95 medium $6.95 large $11.95
Yellow Split Pea
small $5.95 medium $6.95 large $11.95
Lunch Specials
Asian Noodle Salad
udon noodles tossed with scallion and toasted sesame seeds, topped with a salad of shaved romaine, cabbage, roasted shiitake mushrooms, cucumber, daikon, and hijiki in a ginger miso dressing. $12.95
Grilled Vegetable Quesadilla
spinach, mushrooms, peppers, onions, and zucchini with cheddar cheese in a sun-dried tomato tortilla. served with a side of basil pesto. $12.95
Red Lentil and Coconut Daal
served over brown rice with steamed greens $9.95
Tomato and Feta Flat Bread
crispy lavash with tomatoes, feta, black olives, oregano, and spiced olive oil. served with a side salad. $10.95
Bean of the Day
Chickpeas
Smoothie & Juice Specials
Cacao Mint
cacao nibs, mint, banana, hemp milk and vanilla spirutein $8.95
Dressed in Green
spinach, celery, kale, carrot, green apple, lemon $7.50
Peanut Butter Berry
unsweetened help milk, peanut butter, mixed berries, and vanilla spirutein $8.95
Pineapple Delight
pineapple, banana, mint, orange juice and coconut water $7.50
Raspberry Mango
raspberries, mango, apple juice and rice milk. $7.95
Red Moon
chard, beet, apple, orange, ginger, cucumber $6.95
Sun Salutation
lemonade, orange juice, grapefruit juice and mint $6.95
Bulletin Board
February Donation Total
In February, through our bad donation program, we raised $369 for The Retreat in East Hampton. ...
We're On Instagram!
Follow us on instagram via @pronaturalfoods.
Follow us on Twitter!
We're now on Twitter. Follow us @pronaturalfoods for updates on stocked items, promotions, and overall vibe.
March Sale
Arrowhead Mills
Rice and Shine Cereal
$5.89 $3.50
Nature's Gate
Cool Mint Gel
$6.19 $3.99
Earth Friendly Products
Almond Dishmate
$4.79 $3.00
Bach
Black Currant Rescue Pastilles
$9.49 $6.99
Bean Brand
White Bean & Sea Salt Chips
$3.99 $2.29
Koyo
Vegetable Ramen
$1.59 $1.00
Kiss My Face
Coconut Milk Soap
$3.99 $2.50