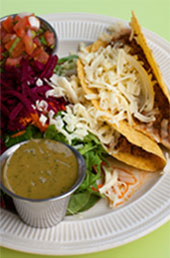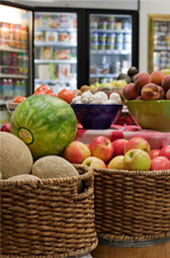 Corner of Bay &
Division Streets
Sag Harbor, New York
631-725-3636

FOLLOW US
Sag Harbor
Sailing Report
Tue, Oct 13, 2015
Water Temp:
loading...
Air Temp:
loading...
Wind:
loading...
Monday's Specials
Breakfast Specials
Breakfast Wrap
three scrambled eggs, spinach and avocado $10.95
Omelette #1
sweet peppers and sausage $10.50
Omelette #2
mushroom and chive $10.50
Soup Specials
Chicken and Rice
small $5.95 medium $6.95 large $11.95
White Bean and Kale
small $5.95 medium $6.95 large $11.95
Lunch Specials
Chicken Arugula Wrap
pulled roasted chicken, arugula, monterey jack, and green herb dressing in a spinach tortilla $13.95
Chickpea & Feta Salad
rosemary-scented chickpeas tossed with feta over tomato salad with salsa verde and gluten-free croutons $12.50
Portobello Quesadilla
roasted portobello, monterey jack, and bean puree in a sun-dried tomato tortilla with a side of guacamole and tomato salsa. $13.25
Red Lentil and Coconut Daal
served over brown rice with steamed greens $9.95
Bean of the Day
Pinto Beans
Smoothie & Juice Specials
Blueberry Banana
blueberries, banana, coconut water, rice milk, and vanilla whey protein. $8.95
Pineapple Delight
pineapple, banana, mint, orange juice and coconut water $7.50
Sun Salutation
lemonade, orange juice, grapefruit juice and mint $6.95
Wake Up Sun
carrot, apple, ginger and lemon small $7.50 large $8.95
Whey Nuts!
coconut water, banana, raw cashews, cacao nibs, peanut butter and whey protein. $9.25
Bulletin Board
We're On Instagram!
Follow us on instagram via @pronaturalfoods.
Follow us on Twitter!
We're now on Twitter. Follow us @pronaturalfoods for updates on stocked items, promotions, and overall vibe.
October Sale
Arrowhead Mills
Organic Tapioca Flour
$5.59 $3.99
Arrowhead Mills
Organic Coconut Flour
$8.59 $4.99
Arrowhead Mills
Organic Rice & Shine Cereal
$6.39 $3.50
Annie's Homegrown
Organic Berry Patch Fruit Snacks
$6.49 $3.50
Wildbrine
Red Beet & Red Cabbage Sauerkraut
$8.79 $6.49
So Delicious
Organic Unsweetened Coconut Milk
$4.89 $3.50
Sambazon
Almond & Coconut Protein Drink
$4.69 $2.50