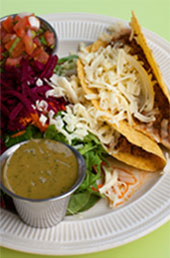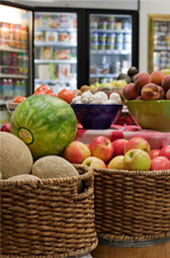 Corner of Bay &
Division Streets
Sag Harbor, New York
631-725-3636

FOLLOW US
Sag Harbor
Weather Report
Sun, Feb 18, 2018
Water Temp:
loading...
Air Temp:
loading...
Wind:
loading...
Sunday's Specials
Breakfast Specials
Avocado Toast
avocado, miso-tahini, red onions and black sesame seeds on whole grain toast $7.95
Huevos Rancheros
2 egg omelette, deep-flavored simmered salsa, monterey jack, pureed beans, corn tortillas, avocado and cilantro $9.75
Omelette #1
zucchini and roasted tomatoes $11.95
Omelette #2
mushroom and kale $11.95
Pancakes
plain $9.75 banana $11.75
Provisions' Egg Sandwich
two eggs on an organic english muffin, with arugula, and sun-dried tomato pesto $6.95
Soup Specials
Chicken and Rice
small $6.75 medium $7.75 large $12.75
Minestrone
small $6.75 medium $7.75 large $12.75
Lunch Specials
Broccoli and Roast Tomato Flatbread
crispy lavash, chopped broccoli, roast tomato, mozzarella cheese, chili flakes, roasted garlic, fresh basil $11.95
Chicken and Arugula Wrap
seared free-range chicken, monterey jack, and arugula with green-herb dressing in a sundried tomato wrap $14.75
Roasted Cauliflower Bowl
roasted cauliflower, roasted carrots, green peas, chili flakes, garlic, sauteed scallions and sunflower seeds served over brown rice (with chicken add $6.95) $11.95
Spinach & Mushroom Quesadilla
sauteed onions and peppers, spinach, mushrooms, and cheddar in a whole wheat tortilla $13.95
Bean of the Day
Chickpeas
Smoothie & Juice Specials
Aloha
organic orange juice, a splash of pineapple-coconut juice, pineapple, mango and strawberrie $8.75
Dressed in Green
spinach, celery, kale, carrot, green apple, lemon $8.50
Flu Fighter!
An anti-oxidant packed juice designed with your immune system in mind--a blend of fresh orange, grapefruit, lime, ginger, pear and apple. $10.95
Fresco
coconut water, banana, kale, pineapple & cashews $9.50
Freshly Green
cucumber, kale, apple, lemon & ginger sm. $8.50 lg. $9.75
Holy Cacao
hemp milk, blueberry, chocolate spirutein, and cacao powder $9.50
Morning Sunrise
carrot, apple, beet & ginger sm. $8.50 lg. $9.75
Pineapple Delight
pineapple, banana, mint, orange juice and coconut water $9.50
Red Moon
kale, beet, apple, orange, ginger, cucumber $8.50 $9.75
Strawberry Banana
Organic strawberries, organic bananas, freshly squeezed orange juice and Rice Dream. $8.75
The Hempster
vanilla hemp milk, hemp seeds, hemp protein, banana and peanut butter. $9.50
Wake Up Sun
carrot, apple, ginger and lemon small $8.50 large $9.75
Whey Nuts!
coconut water, banana, raw cashews, cacao nibs, peanut butter and whey protein. $9.50
Bulletin Board
January bag donation Sag Harbor Ambulance
We're On Instagram!
Follow us on instagram via @pronaturalfoods.
Follow us on Twitter!
We're now on Twitter. Follow us @pronaturalfoods for updates on stocked items, promotions, and overall vibe.
February Sale
Garden Of Eatin'
Blue Corn Tortilla Chips
$4.29 $2.50
Natural Sea
No Salt White Tuna
$4.59 $3.00
Thayers
Rose Petal Witch Hazel
$11.25 $7.99
Arrowhead Mills
Buttermilk Pancake Mix
$6.09 $3.50
Kyolic
Cardiovascular Formula
$25.75 $18.49
Food For Life
Ezekiel 4:9 Bread
$7.09 $6.79
Nasoya Foods
Super Firm Tofu
$4.19 $2.50