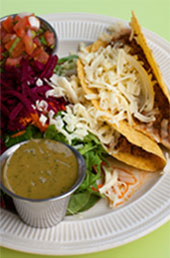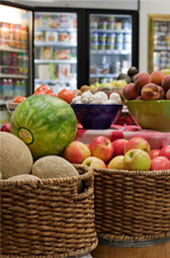 Corner of Bay &
Division Streets
Sag Harbor, New York
631-725-3636

FOLLOW US
Sag Harbor
Sailing Report
Tue, Sep 16, 2014
Water Temp:
loading...
Air Temp:
loading...
Wind:
loading...
Tuesday's Specials
Breakfast Specials
Breakfast Wrap
three scrambled eggs, roasted sweet peppers and veggie sausage $10.25
Omelette #1
ratatouille and basil $10.25
Omelette #2
avocado, scallion, and goat cheese $10.25
Soup Specials
Chicken and Rice
small $5.95 medium $6.95 large $11.95
Green Split Pea
small $5.95 medium $6.95 large $11.95
Lunch Specials
Avocado & Goat Cheese Quesadilla
goat cheese, avocado, and corn salsa in a sun-dried tomato tortilla with a side of cilantro pumpkin seed pesto $12.95
Roasted Beet and Goat Cheese Salad
mixed greens, roasted beets, toasted cashews, apples, goat cheese and shallot-mustard dressing. $11.95
Roasted Chicken Sandwich
seasoned roasted chicken, tomato, and avocado on whole grain toast with cilantro pesto and a side salad. $13.75
Roasted Portobello and Zucchini Spaghetti
zucchini spaghetti and roasted portobello mushroom with red quinoa, basil pesto, shaved carrot, tomato and pumpkin seeds. $12.50
Bean of the Day
Kidney Beans
Smoothie & Juice Specials
Blueberry Banana
blueberries, banana, coconut water, rice milk, and vanilla whey protein. $8.95
Pineapple Delight
pineapple, banana, mint and coconut milk $7.50
Sun Salutation
lemonade, orange juice, grapefruit juice and mint $6.95
The Hempster
vanilla hemp milk, hemp seeds, hemp protein, banana and peanut butter. $8.95
Ultimate Smoothie
mixed berries, ultimate meal, apple juice, and rice milk $8.95
Zeus Juice
spinach, pear, lemon and zucchini small $6.95 large $8.95
Bulletin Board
WE'RE HIRING
We have a couple of full-time, year round positions available. The pay is competitive, the benefits are solid and the vibe i ...
September Bag Donations
For September, our bag donations are going to the Peconic Baykeeper. The Peconic Baykeeper is the only independen ...
Follow us on Twitter!
We're now on Twitter. Follow us @pronaturalfoods for updates on stocked items, promotions, and overall vibe.
September Sale
Similasan
Kid's Cold & Mucus Relief
$10.39 $6.99
Field Day
Lavender Shampoo, For Normal Hair
$7.49 $3.50
Jason
Aloe Vera Satin Shower Body Wash
$15.75 $9.99
Avalon Organics
CoQ10 Facial Cleansing Cream
$12.99 $8.99
Rainbow Light
Food-Based Calcium
$12.99 $6.99
Nutrex Hawaii
Spirulina Tabs
$12.99 $8.99
Spectrum Naturals
Organic Unrefined Extra Virgin Olive Oil
$19.59 $11.99