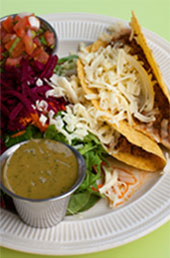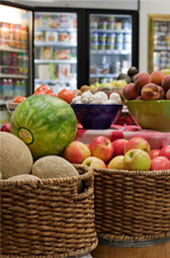 Corner of Bay &
Division Streets
Sag Harbor, New York
631-725-3636

FOLLOW US
Sag Harbor
Sailing Report
Mon, Aug 3, 2015
Water Temp:
loading...
Air Temp:
loading...
Wind:
loading...
Monday's Specials
Breakfast Specials
Breakfast Wrap
three scrambled eggs, avocado and arugula $10.50
Omelette #1
mushroom and spinach $10.50
Omelette #2
broccoli and cheddar $10.50
Soup Specials
Chicken and Rice
small $5.95 medium $6.95 large $11.95
Chilled Vegetable Pesto
small $5.95 medium $6.95 large $11.95
Lunch Specials
Chicken Arugula Wrap
pulled roasted chicken, arugula, monterey jack, and green herb dressing in a spinach tortilla $13.95
Mushroom Basil Quesadilla
cremini and shiitake mushrooms, basil, monterey jack, and grilled red onion with a side of lemon dressing $12.95
Roasted Portobello and Zucchini Spaghetti
zucchini spaghetti and roasted portobello mushroom with red quinoa, basil pesto, shaved carrot, tomato and pumpkin seeds. $10.95
Sweet Potato Korma
sweet potato simmered in tomato with curry, kale, white beans, and coconut milk over jasmine rice (vegan) $9.95
Bean of the Day
Kidney Beans
Smoothie & Juice Specials
Blueberry Banana
blueberries, banana, coconut water, rice milk, and vanilla whey protein. $8.95
Pineapple Delight
pineapple, banana, mint, orange juice and coconut water $7.50
Sun Salutation
lemonade, orange juice, grapefruit juice and mint $6.95
Wake Up Sun
carrot, apple, ginger and lemon small $7.50 large $8.95
Whey Nuts!
coconut water, banana, raw cashews, cacao nibs, peanut butter and whey protein. $9.25
Bulletin Board
We're On Instagram!
Follow us on instagram via @pronaturalfoods.
Follow us on Twitter!
We're now on Twitter. Follow us @pronaturalfoods for updates on stocked items, promotions, and overall vibe.
August Sale
Seventh Generation
Natural Free & Clear Laundry Detergent
$21.09 $12.99
Spectrum Naturals
Organic Extra Virgin Olive Oil
$19.89 $11.99
Rice Dream
Organic Original Enriched Rice Beverage
$6.59 $4.50
Purely Elizabeth
Mango Almond Ancient Grain Muesli
$7.99 $5.49
Maranatha
Organic No Stir Creamy Peanut Butter
$9.69 $5.49
Maranatha
Creamy No Stir Almond Butter
$14.59 $8.99
Koyo
Asian Vegetable Reduced Sodium Ramen
$1.59 $1.00