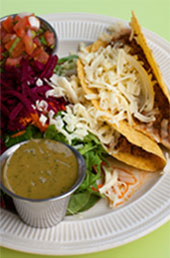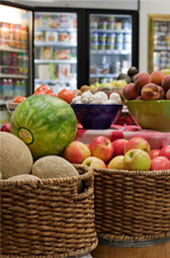 Corner of Bay &
Division Streets
Sag Harbor, New York
631-725-3636

FOLLOW US
Sag Harbor
Sailing Report
Wed, Aug 31, 2016
Water Temp:
loading...
Air Temp:
loading...
Wind:
loading...
Wednesday's Specials
Breakfast Specials
Breakfast Wrap
three scrambled eggs with kale and goat cheese $10.95
Omelette #1
shiitake and grilled onion $10.50
Omelette #2
roasted pepper and tomato $10.50
Soup Specials
Chicken and Rice
small $6.50 medium $7.50 large $12.50
Green Split Pea
small $6.50 medium $7.50 large $12.50
Lunch Specials
Avocado & Goat Cheese Quesadilla
goat cheese, avocado, and corn salsa in a sun-dried tomato tortilla with a side of cilantro-and-pumpkin-seed pesto. $12.95
Caesar Salad
romaine hearts, gluten-free croutons and vegan caesar dressing $8.95 with grilled chicken $13.95. with grilled tempeh or tofu $11.50.
Herbed Turkey Loaf
mashed sweet potatoes, steamed greens, and mushroom sauce $9.95
Hummus Wrap
hummus, spinach, black olives, roasted tomatoes, grilled onion and crispy falafel chips in a sun-dried tomato tortilla $11.50
Bean of the Day
Pinto Beans
Smoothie & Juice Specials
Aloha
organic orange juice, a splash of pineapple-coconut juice, pineapple, mango and strawberrie $8.25
Fabulous Fennel
fennel greens, celery, cucumber, apple, and a touch of lime sm. $7.50 lg. $8.95
Freshly Green
cucumber, kale, apple, lemon & ginger sm. $7.50 lg. $8.95
Morning Sunrise
carrot, apple, beet & ginger sm. $7.50 lg. $8.95
Pretty in Pink
organic apple juice, strawberries, raspberries and pineapple $8.25
Sun Salutation
lemonade, orange juice, grapefruit juice and mint $6.95
Wake Up Sun
carrot, apple, ginger and lemon small $7.50 large $8.95
Watermelon Juice
$4.25
Whey Nuts!
coconut water, banana, raw cashews, cacao nibs, peanut butter and whey protein. $9.50
Bulletin Board
We're On Instagram!
Follow us on instagram via @pronaturalfoods.
Follow us on Twitter!
We're now on Twitter. Follow us @pronaturalfoods for updates on stocked items, promotions, and overall vibe.
The Bug Stick is Here!
We are now carrying the Bug Stick, Sun Stick and Skin Stick by Dr. Ferdorenko!
There are no sales.