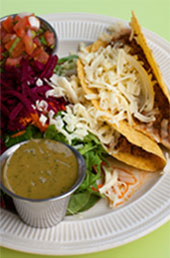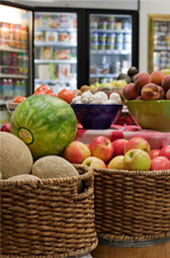 Corner of Bay &
Division Streets
Sag Harbor, New York
631-725-3636

FOLLOW US
Sag Harbor
Sailing Report
Sat, Feb 6, 2016
Water Temp:
loading...
Air Temp:
loading...
Wind:
loading...
Saturday's Specials
Breakfast Specials
Omelette #1
veggie sausage, roasted peppers and tomato puree $10.50
Omelette #2
zucchini and tomato $10.50
Pancakes
plain $9.50 banana $10.50
Soup Specials
Pinto and Kale
small $6.25 medium $7.25 large $12.25
Yellow Split Pea
small $6.25 medium $7.25 large $12.25
Lunch Specials
Chicken Arugula Wrap
seared chicken breast, arugula, monterey jack, and green herb dressing in a spinach tortilla $13.95
Grilled Vegetable Quesadilla
spinach, mushrooms, peppers, onions, and zucchini with cheddar cheese in a sun-dried tomato tortilla. served with a side of basil pesto $12.95
Herbed Turkey Loaf
turkey meatloaf served with mashed sweet potatoes, steamed greens, and mushroom sauce $9.95
Roasted Portobello and Zucchini Spaghetti
zucchini spaghetti and roasted portobello mushroom with red quinoa, basil pesto, shaved carrot, tomato and pumpkin seeds. $11.95
Bean of the Day
Kidney Beans
Smoothie & Juice Specials
Beauty and The Beet
Celery, beet, apple, lemon, ginger, kale and pineapple. $10.50
Cacao Mint
cacao nibs, mint, banana, hemp milk and vanilla spirutein $8.95
Holy Cacao
hemp milk, blueberry, chocolate spirutein, and cacao powder $8.95
Mango Lassi
mango, mint, orange juice, rice milk and coconut milk yogurt. $7.95
Peanut Butter Twist
hemp milk, banana, peanut butter and ultimate meal. $8.95
Sun Salutation
lemonade, orange juice, grapefruit juice and mint $6.95
Wake Up Sun
carrot, apple, ginger and lemon small $7.50 large $8.95
Bulletin Board
FRUIT & NUT CLUB OPEN ENROLLMENT NOW!
From December 1st to February 29th you can enroll or renew your FRUIT & NUT club membership for 10% off non sale purchas ...
We're On Instagram!
Follow us on instagram via @pronaturalfoods.
Follow us on Twitter!
We're now on Twitter. Follow us @pronaturalfoods for updates on stocked items, promotions, and overall vibe.
February Sale
Garden of Eatin'
Blue Corn Tortilla Chips
$4.29 $2.50
Green & Black's
Organic 70% Dark Chocolate Bar
$4.89 $2.50
Woodstock
Organic Extra Firm Tofu
$3.59 $2.29
Arrowhead Mills
Buttermilk Pancake & Waffle Mix
$6.15 $3.50
Green Valley Organics
Organic Plain Kefir
$7.29 $4.99
Wallaby Organic
Organic Low Fat Vanilla Yogurt
$1.85 $1.19
Sambazon
Original Smoothie Packs
$8.59 $5.49